Former Geordie Shore star Vicky Pattison has defended her use of Instagram filters after she and her talented make-up artist Lo Dias spotted a number of "hateful, negative," and "downright bitter" comments under their pictures.
Even with minimal make-up, Vicky looks nothing short of flawless, but on Wednesday afternoon (14 September), the reality beauty took to Instagram to call out some of her followers after they accused her of running her snaps through Photoshop - something which she denied.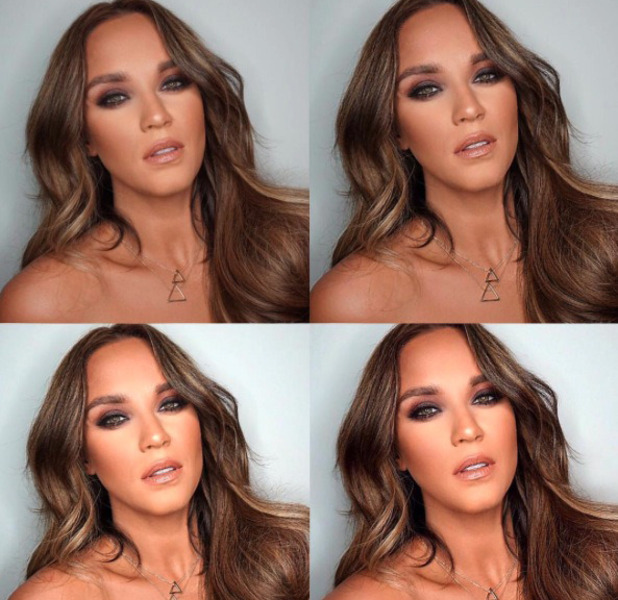 To prove she was telling the truth, the
I'm A Celebrity
winner posted the original snap (top left) alongside the filtered picture (bottom right) and explained
exactly
how she and her amazing glam-squad took it from camera-roll to Instagram-ready in seconds.
No fancy Photoshopping skills, at all!
"Soooooo, here it is," Vicky wrote underneath her post. "After receiving numerous 'that looks nothing like you' moans or 'so photoshopped' whinges from you bored trolls out there myself and my gorgeous girl @thebeautybom have put together this for you..."
Vicky continued, "The image on the top left is the completely untouched, unedited and organic picture of me and as we go across in story board form you can see the MINOR changes she made to the pic culminated in the final and bottom right image that seemed to cause so many of you so much offence!!"
So how exactly did the girls edit the pic?
"[Lo has] sharpened a few bits and used a filter, yes I'm wearing makeup and tan but who doesn't?!!" Vicky wrote. "Can we all just calm our passions, get off our high horses, chill out, stop being so hateful, negative or downright bitter and just see this for what it is?!!!!! A nice picture of me with some pretty chains round my neck?!!"
But that's not all! A girl after our own heart, outspoken Vicky had a few words more for those who have taken the time to comment negative things underneath her posts.
"I personally could not get so fired up over a picture of someone but that may be because I have a happy busy life filled with friends, family, a fulfilling job, travel and ambitions... So maybe next time rather than criticise me, or [Lo's] work you will take a second and think 'am I really annoyed by this image or am I just dissatisfied with my own life?!'"
After encouraging those people to "better themselves", Vicky signed out, "Rant Over... NAMASTE. (Sorry if I sound like a preachy W****r.... I do that sometimes when I'm feeling passionate!)."
You tell 'em, Vick!
Of course, it wasn't long before a flood of supportive fans and followers took to the comments section to share their thoughts, and many of them admitted that they're
also
partial to a good old filter. But pur-lease, who isn't?!
"It's just has the brightness turned up, what's the beef?" wrote one, while another commented, "Ridiculous you have to explain yourself to some people Vick! We all use filters lol."
You said it, guys.
Follow us on Twitter @RevealMag for all your celeb, fashion and beauty news!Fancy winning some GREAT prizes? Check out Reveal Competitions here!