With Cheryl Fernandez-Versini and Little Mix big fans of Lauren Pope's Hair Rehab London hair extensions range, we were rather excited to be given the opportunity to try them out ourselves. And that's just what happened last week when Reveal.co.uk web editor Lara Martin headed down to the Richard Ward Salon in Sloane Square, London for a fitting and expert advice on using clip-ins for the first time from Lauren herself…
Most people love experimenting with their hair, right? I'm no different. I have naturally thick and long hair but I LOVE using clip-in extensions for a bit of extra volume and length on a special occasion. But with so much choice out there, it's tricky knowing exactly where to get started.
Step up Lauren to help us out!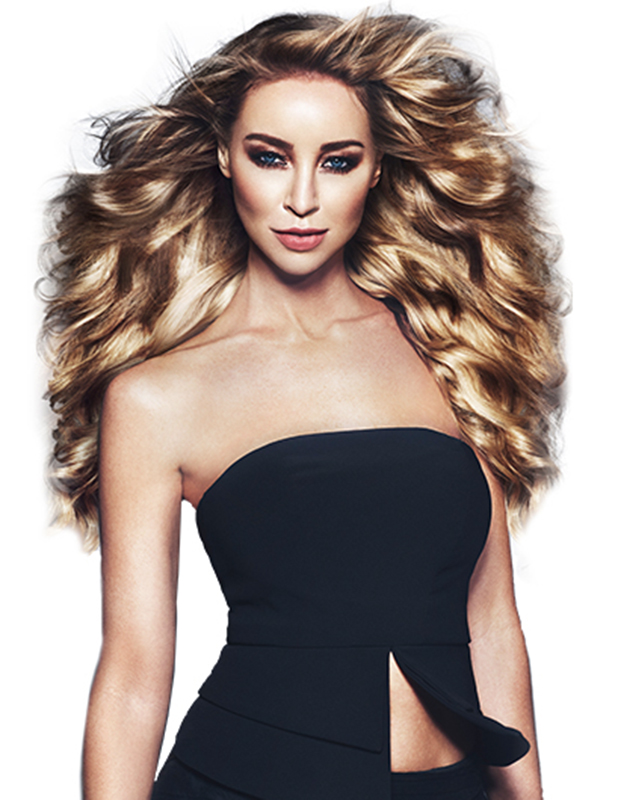 The former
TOWIE
star-turned-hair extensions guru, 33, offered to show us how to use one of her synthetic clip-in hair pieces. In this case, the 20-inch plait. Synthetic hair clip-ins are a good option if you don't want to spend too much money (
the plait retails at £24.99
) which makes them a good choice for clip-in beginners.
Here's four basic things I learned from Lauren about choosing, maintaining and wearing clip-in hair extensions (and how I got on trying to recreate what she taught me at home.)

Ordering clip-in extensions online is tricky when it comes to colour. I know from experience! Holding your hair up to your iPad screen to try to match colours isn't the easiest way to do it – especially, if like me, you've had your hair dyed so many times you've got dozens of different colours running through it.
Many brands – including Hair Rehab London – now offer a service where you can send in a photo of yourself and their experts will match your hair colour to the right extensions. And if you get yours via HRL then Lauren herself may be the one choosing your colour!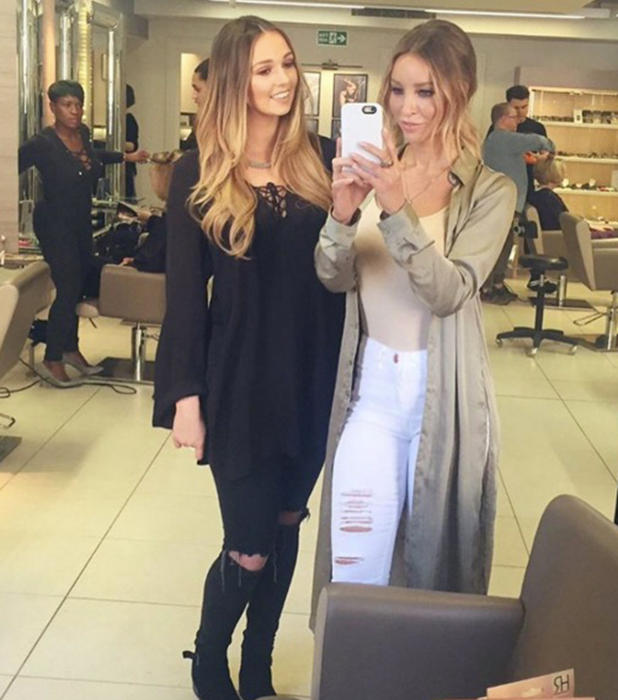 Here's a helpful tip for sending in a photo to a colour-matching service: try to include your whole head! For vanity reasons (no make-up), I just sent a photo through of the side of my head, showing the blonde colour, which meant when the extensions arrived, they were too blonde for the top of my head. Silly me forgot to account for the fact I had roots. If that does happen to you, however, Lauren has a helpful tip: use a dark root concealer to brush over the part of the clip-in that rests against your roots, blending the colours together.
As well as sorting your colour, you'll need to decide what style and length of clip-in extensions you want. There are SO MANY available from human hair to synthetic, half wigs, plaits, buns, ponytails and more. Not to mention a slew of different lengths. This is all a personal choice dependent on what you want from your clip-in, so do a little research into the various styles and browse before and after pictures.

For my day at the salon, Lauren's brought along a 20-inch synthetic clip-in plait, which is a product I've never used before. It arrives already plaited and, silly me half thought you'd simply clip it into your hair and be done with. Oops. Actually, you unplait it, brush it out and clip into your loose hair before styling. Which makes way more sense.
The hair looks like this when it arrives (left) and this when it's unplaited (right).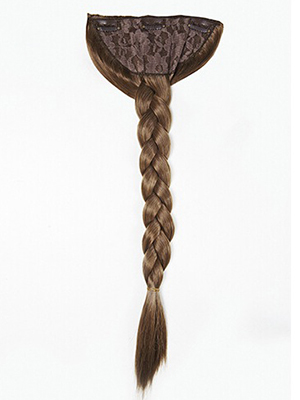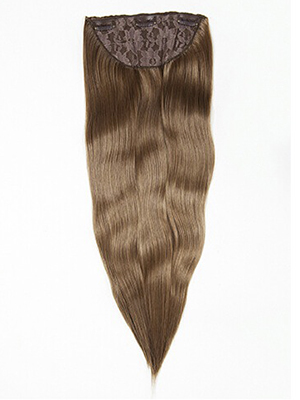 It has three clips that you use to secure into your hair. Decide where you want your plait to begin and section the hair. As you can see below, the extension was clipped in quite high on my head.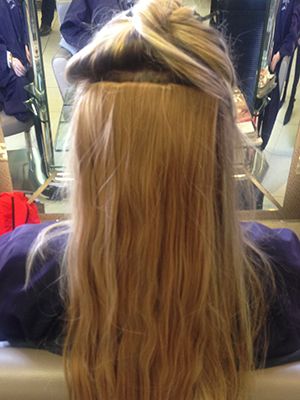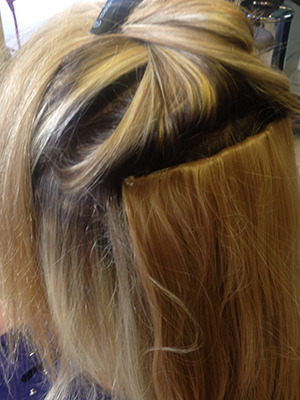 Before clipping, gently backcomb the sections of hair you will attach the clips to, before clipping it in. Then unsection your hair at the top and brush it all out together. The clip-in extension should blend into your normal hair, allowing you to plait all of the hair together. Lauren advises that it's better to use clip-in extensions on day old hair rather than freshly-washed hair.
Lauren explains it way better than me in this video below!
And all clip-in hair extensions you order come with full instructions. YouTube's also a handy tool if you're having any difficulty.

As you can see below, the plait that Lauren and hairdresser Lianne Godfrey create for me using the clip-in plait is rather majestic. On a scale of one to ten the chances of me ever being able to recreate it at home is probably zero. But it looks so pretty right? ("You're like Elsa from Frozen!" as one friend told me.)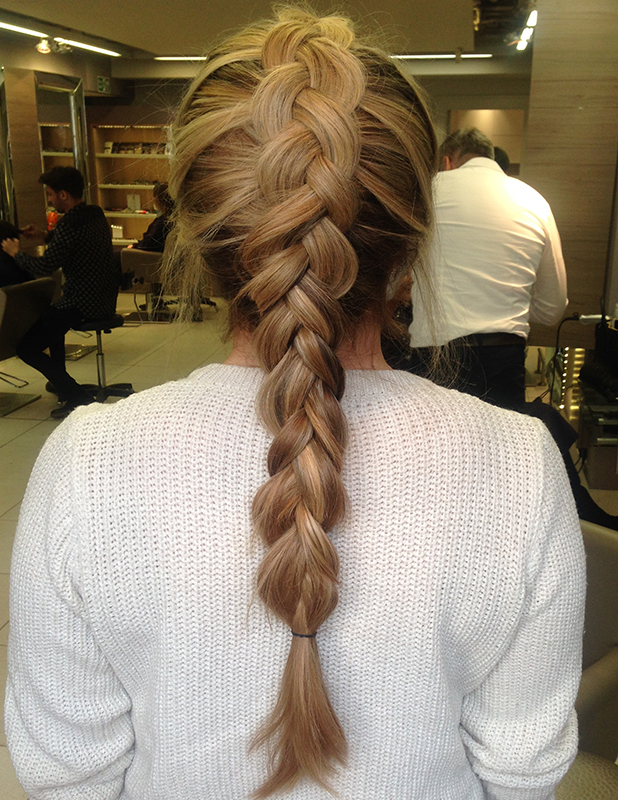 Even if I'll never be able to recreate this style, I did learn some helpful things from Lauren about styling your extensions. Firstly, make sure you know the difference between synthetic and human hair! You CAN'T use heat products on synthetic extensions. Trust me, been there, regretted that! You also can't colour your synthetic locks. You can, however, use hair products like hairspray to keep your synthetic style in place.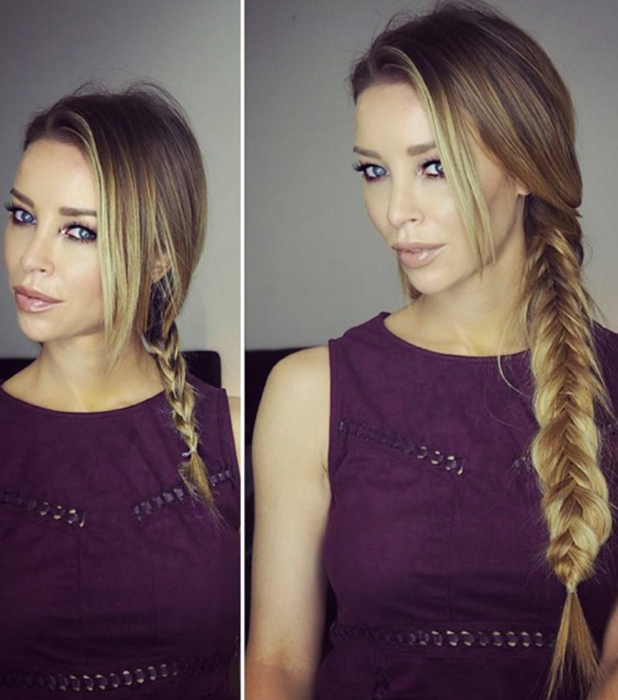 Another good trick is having lots of bobby pins on hand. My hair is layered which meant lots of stray hairs poking out mid-way down my plait. Bobby pins kept them in place, along with a hefty dose of hairspray. I do find more hairs poke out when my locks are freshly washed rather than day old.
A clear band also looks best at the bottom of the clip-in plait as it doesn't break up the style. And good news for girlies with roots (like me!) as you can see in the photos, having roots actually makes the plait stand out more, right?!

You can sleep in your hair extensions if you really, really need to, but Lauren advises at least plaiting them first to minimise damage and make them last longer. (Obvs if you've used the plait that's already sorted!) Ideally, though, you take them out before bed, and give them a brush.
Hair pieces are very much like your real hair in terms of needing a bit of TLC. For synthetic pieces, Lauren advises washing in cold water water using a mild baby shampoo and mild conditioner. Don't rub the hair, instead leave it to soak for around five minutes before rinsing with cold water. Use a towel to squeeze excess moisture from the locks before allowing them to dry naturally. Don't try to comb or brush the synthetic hair while wet and DEFINITELY no hairdryer!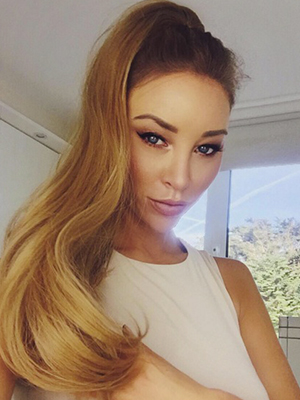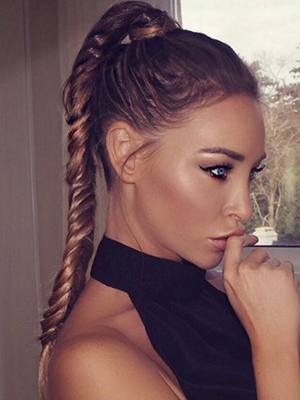 Once the hair is dry, it's ready to use again!
If you look after your hairpiece by brushing it gently and avoid heat near the hair fibres you can expect it to last around 6 months if you are wearing just for a weekend night out here and there. You can prolong the life of hair extensions and hairpieces by always brushing them when you remove them and storing somewhere it wont get tangled. You can get hair hangers and carriers (like this
Hair Rehab London one, now on sale at £9.99
) or alternatively use a skirt or trousers hanger to grip hold of your hairpiece and keep it detangled.

There's no denying my hair looks gooooo-d when I leave the salon after an hour with Lauren but I'm already feeling pessimistic about ever being able to copy it home.
First things first, how does it feel? I'm surprised how light my hair feels, considering how much extra weight has been plaited into it. I don't feel the extension is tugging at my scalp and it's certainly not uncomfortable. The hair feels soft and silky as well. When you run your fingers over your head you can feel the clips in place, but you definitely can't see them. I checked in the mirror several times!
Even better, nobody seems to realise it's not my actual hair! My mum and a girlfriend both remark on how lovely my hair is looking and seem genuinely surprised when I point out a lot of it isn't mine.
After getting as much use as possible out of my gorgeous plait (three days) and refusing to unbraid it until the very last point I could get away with it, I washed, blow dried, slept, went to work, and later that day set about recreating the plait myself.
I did find the clip-in needed a thorough brushing before I could use it as it had become rather tatty from being plaited before. Which makes sense. Once brushed out, I found it really easy to clip-in again. Then came the challenge: braiding!
Turns out it wasn't so bad! No way was I going to be able to pull off the insanely awesome braid done by Lauren and Lianne, but I don't think my first effort was too bad, right?! Having the extra length actually made the plaiting easier in a way as you had more to work with and less fiddly layered bits of hair falling out.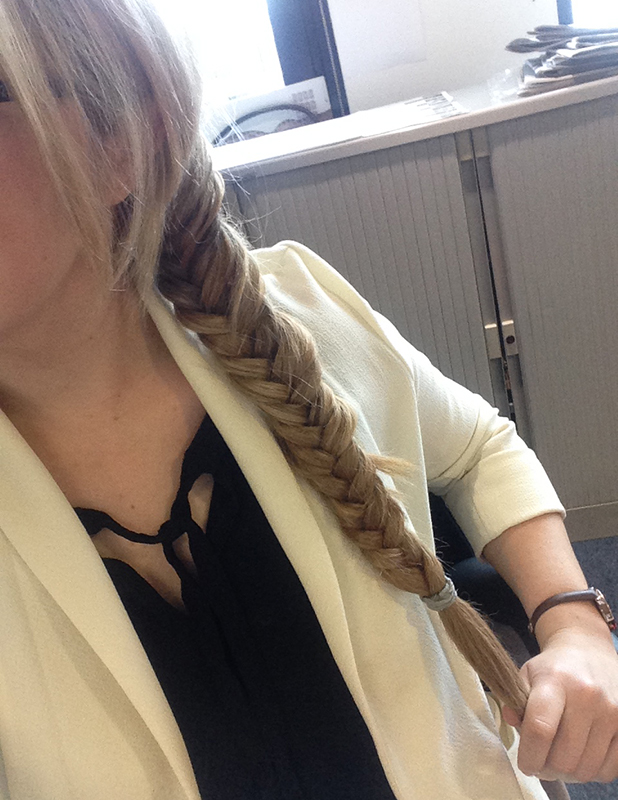 For exclusive competitions and amazing prizes visit Reveal's Facebook page NOW!