The Only Way Is Essex's Ricky Rayment reduced us to tears (of pure laughter) when he attempted to dye his raven tresses a Justin Bieber-esque shade of silver-grey on Tuesday (29 March) - and he was at it again yesterday, too!
However - and
you
guessed it - things didn't quite go to plan the second or the third time around, either.
TOWIE
star Ricky took to Snapchat to debut his transformation from dark brown to silver but the shop-bought colour didn't take properly at all.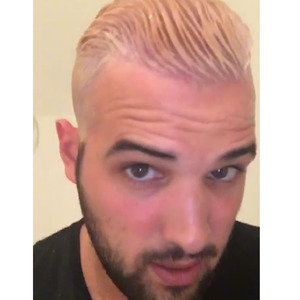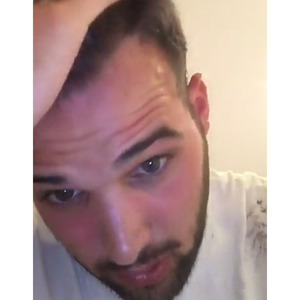 In fact, it rendered Ricky's locks an eye-popping shade of copper which prompted him to come out with this little firecracker: "I was hoping for [Phillip] Schofield but I got more Garfield!"
L-O-L.
Ricky went back to Sally's where he got the first bottle of hair-dye from and purchased another in a bid to lighten the bright and bold tone - and it did - but it wasn't the sleek, edgy hue that Ricky was hoping for.
(See TOWIE's Joey Essex, Ex On The Beach's Ross Worswick and Geordie Shore's Gaz Beadle for inspo!).
In fact, it stung like HELL and poor Ricky was forced to wash it off immediately. His poor scalp, right?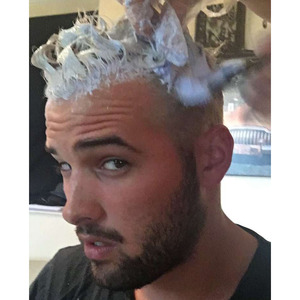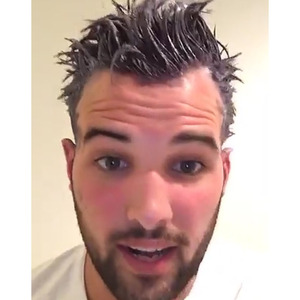 Just when we thought Ricky had given up he decided to Snap another hair-dyeing sesh and the results had us rolling around the floor, clutching our tums.
In a ten second clip (watch it @rickyrayment before it disappears forever!) Ricky HI-LARIOUSLY said, "I look like something out of Dragon Ball Z! I need everyone to be with me on this and pray for grey because this is the last time I'm trying on my own."
He continued, "It looks proper dark though. Imagine Sally's f****ed up and gave me a dark one by accident. If this doesn't work, I'm sorry, I'm going to the salon."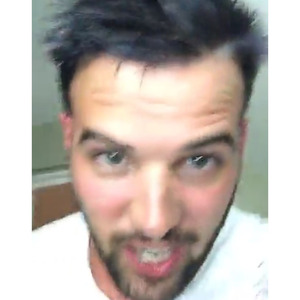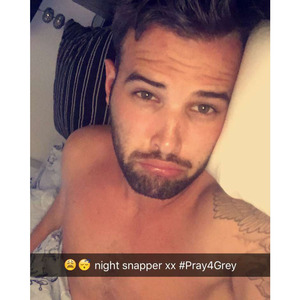 Just when we thought our sides couldn't split any further, Ricky washed the dye off and unleashed a full head of indigo tinged locks! We can't even deal.
In another Snap, he bellowed, "Silver white?! IT'S BLACK! I'm a broken man. I mean it's sort of grey so you have to take the positive. More like a purple black, and I would have rather it was the yellow. I can't believe it. All I can hope is that it fades a bit. What a liability. Two days of this haiedye s**t."
We actually can't breathe.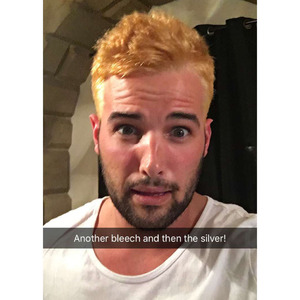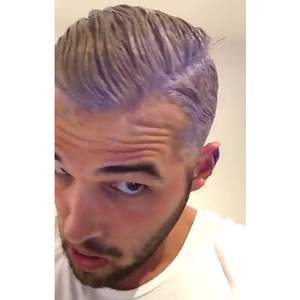 Just before heading off to bed yesterday evening, Ricky took the time to thank fans for following him on his hair-dyeing journey and we did feel for him a little.
In another clip, the star said, "I know it's been funny for you guys and its been funny for me. The most I can hope for is that I've had so much stress that I wake up grey. If there are any salons out there that think you can make me go silver out there, I will come, but I don't think you can. On the brighter side, my hair hasn't fallen out and it's still a little soft. I'll put some conditioner in to save my hair."
When Ricky woke up this morning, his hair wasn't grey - but you could have guessed as much. Thankfully he took a vid of himself heading on over to Wendy's Salon in Essex who we're hoping can salvage his strands.
But what if it doesn't work, Rayment?!
"I'm going to shave the whole thing off and stay inside for the rest of my life," he said.
*GASP*
For exclusive competitions and amazing prizes visit Reveal's Facebook page NOW!