Katie Hopkins has lashed out at Kelly Clarkson's weight again.
In a second jibe about the original
American Idol
winner, controversial Katie again took aim at Kelly's figure.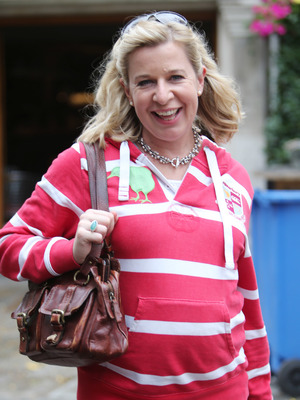 She tweeted: "Look chubsters,
Kelly Clarkson
had a baby a year ago. That is no longer baby weight. That is carrot cake weight. Get over yourselves."
Kelly welcomed daughter River Rose in June 2014.
Needless to say, plenty of people were quick to express shock at Katie's words, with one tweeting: "Some people find it harder to lose weight, whereas other people find it easy and do it without realising. Judging people because of their size is horrendous. It's not what's on the outside, it's what's on the inside."
Katie replied to that follower: "£5 billion a year cost to NHS - 1 in 10 kids start school age 4 already obese - problem? Yes, we have a problem."
Weight loss is a subject Katie has spoken about frequently. She
actually gained around three and a half stone herself last year in order to lose it again for a TLC show
demonstrating weight loss can be done.
It's the second time
Katie has singled out Kelly.
While watching
The Graham Norton Show
last month, she tweeted: ""Jesus, what happened to Kelly Clarkson? Did she eat all of her backing singers? Happily I have wide-screen. #grahamnorton.
"Darling, if you had a baby a year ago, that is not baby weight. It is fat. Quit calling it cute names to make yourself feel better. Baby weight, puppy fat, muffin top. We're so weakwilled we have to make up cute names for fat. Babies, puppies, muffins. Nope. Just fat love."
As you'd expect, Kelly hasn't said anything in return... we wonder if she knows who Katie is?
Despite plenty of people rushing to defend Kelly and express surprise at Katie's viewers, Katie won't be backing down anytime soon. (Unsurprisingly.)
She ended her tweeting spree last night by saying: "You can #standstrong and say what you believe. We do not have to agree. We can share a platform & have opposing views. Do not be closed down."