Emma Willis is top of our beauty love list right now - not only is she the ultimate short hair inspiration but her make-up's pretty fabulous too!
We caught up with the presenter of
Celebrity Big Brother
and
The Voice
to steal her skin, hair and make-up goss.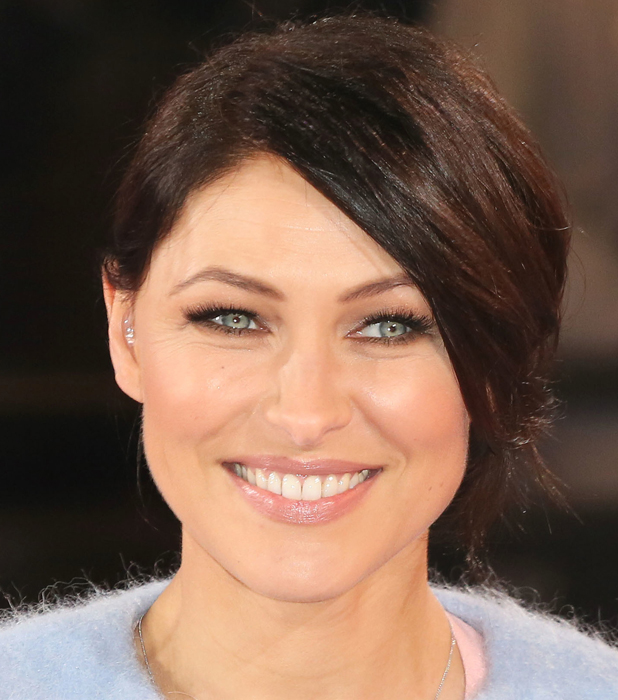 How do you get your hair so glossy?
'A good hairdresser! Megan Stevens, from Jamie Stevens salon, styled my hair for eviction nights on this series of
Celebrity Big Brother
but I go to a local hairdresser for my colour.
It's all about good products too. I use
Aussie Colour Mate Shampoo and Conditioner, £4.69 each,
and
Aussie Three Minute Miracle, £4.99.
I also like using Argan oil and
Sebastian Whipped Creme, £20.25,
which is for naturally curly hair like mine.'
You're known for your signature bob but what made you first brave the chop?
'I lost a lot of hair after the birth of both my children and it's naturally really fine, so the shorter I keep it the better.
At first I was worried it wouldn't be very versatile but my hairstylist Megan has come up with some really great little styles.
I find that as long as I keep it long at the front, there's a lot you can do with it - plaits, pinned up, adding hairbands.'
During Celebrity Big Brother, some people were critical of your look on Twitter. Do you take notice of negative tweets?
'Yes, I do read the tweets but do you know what? It's normally the men who have something to say!
They comment on my hair and say things like they 'don't like my dress because it's not tight enough. Not everything has to show every inch of your figure though...
I don't want to offend the guys out there but I think 'if I'm going to take fashion and hair advice, it's not going to be from a man!' I take on board what the chicks say though, definitely. I like trying different things.'
Any budget beauty products you love?
'Yes, I mostly use more affordable buys.
L'Oreal Paris Voluminous Mascara, £8.49,
is my mascara of choice. It's nice and thick with a really good brush.
Simple Face Wipes, £3.49,
, I use them day and night.
Imperial Leather Foamburst Body Wash, £3.15,
and
Sanex Zero Kids Bodywash and Foam Bath, £3.15,
as it's really gentle on my kids' skin. I like to spend more on my moisturiser though. I like
Lancome Hydra Zen Neurocalm, £39.50.
'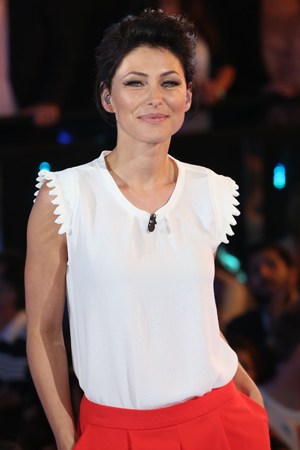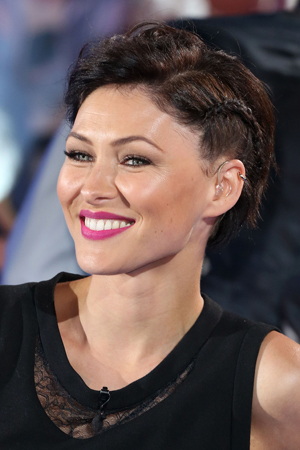 Have you picked up any tricks for ensuring your make-up looks great on camera?
'Yes, I work closely with my make-up artist Amanda Bowen who's done my make-up for ten years.
I've learnt that the secret is to not put too much on. It's a cliche but less is more. It can be tempting to pile on too much blusher, put lots of shine on your cheekbones... but I think keep it simple and clean otherwise it just goes a bit bonkers!
And find a style that suits you and perfect it. Amanda does two different looks on me - a smoky eye with a nude lip or a simple eye with a bold lip. That's what we stick to, just varying the shades.'
You've worked some amazing lip looks! Which products are your favourites?
'I normally use MAC on my lips - they do a really good colour range. I like their glosses in natural shades and their bright pink, orange and purple lipsticks.'
The best beauty tip you've ever heard?
'I know everyone says it but you have to drink lots of water! I never used to believe it but now I totally get it. After holidays when I've drank loads of it, my skin always looks better. It definitely makes a difference.'
As a busy mum, what are your tips for getting ready in a rush?
'I'd say, if you have just ten minutes to get ready, try and dedicate the whole ten minutes to yourself. Give the baby to your partner, your babysitter, a grandparent if you can!
And concentrate on yourself rather than mulit-tasking.'
Emma is hosting this year's Sainsbury's Beauty Awards. Click here to vote for your favourite beauty product. Voting is open until October 29th 2014.