TOWIE
's
Ferne McCann
is always on the ball when it comes to fashion and beauty. So we couldn't resist catching up with the Essex star at the
launch of Chloe Sims' Beauty Bar
for a girly natter on her favourite high street shops, beauty tips and her biggest designer splurge...
What are your favourite beauty products?
I'm going to go with
Hoola from Benefit
(£23.50), it's an absolute classic and I love that it is matte and dark enough for pretty much all skin tones. I love using it to contour – I suck in the cheeks and brush it from the knobbly bit of my ear , all the way down my cheekbones and just above the temples. Contouring the nose is more difficult, but if you YouTube it, it's easy.
I also still love Rosehip Oil by Trilogy
(£16.50). It's really nourishing for the skin and I add a few drops every night. I love vitamin A products and all things organic.
Blot Powder Press from MAC
(£20) is really good for a night out. It's translucent, so you just blot your face when your feel yourself getting greasy and a little bit shiny. It's good because it doesn't clog up your make-up, it's just translucent over the make-up that you have done.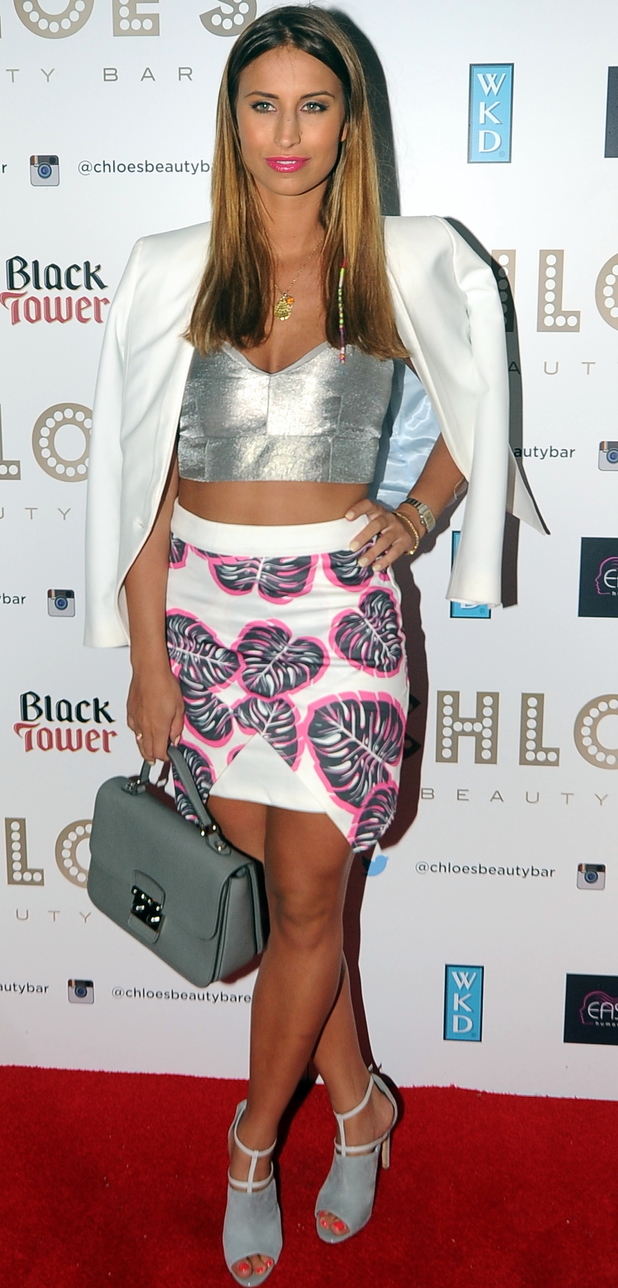 How about your beauty bargains?
I buy a massive pot of
Astral
(£7.99) that I keep in my drawer. Sometimes I take my make-up off with it, 'cause it's so thick and sometimes you just want that extra kick of moisture. My mum told me when I was young that Joanna Lumley swore by it. I just love the familiar smell.
Since appearing on TOWIE, what make-up tips have you picked up from the pros?
I used to do my eyebrows really, really square. I think they are a maker or breaker of someone's face. So now, I brush them up, so all the hairs are flicking up, and then with a fine line brush that's slightly angled, I line them with dark brown underneath and then on the tail and just flick it up.
For a black flick, I always use
Barry M Liquid Eyeliner
(£4.79). It's high street, it's cheap. Always start from the outside and flick up and take your time.
What's been your biggest ever designer splurge?
The other day, I purchased two Miu Miu bags. One was this (grey dove as seen in picture of Ferne at the launch) and the other was a pink clutch – they were just under £2,000.
The perfect person to ring to say "Shall I go for it?" is Billie Faiers. She said to me "Please can you take my credit card from me? I need to stop shopping, not only for my baby, but myself!"
She bought herself four pairs of designer shoes in two weeks – she's pregnant!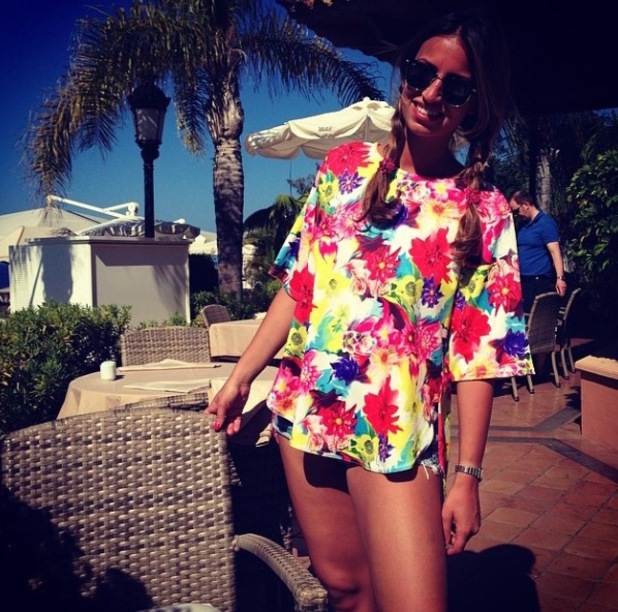 As you're a professional hairdresser, what are your tips for getting last-minute gorgeous tresses?
My hair is the thing I spend the least time on, I always leave it to the last minute. But if you're in a rush, I would say plaits are my favourite. They are always on trend, no matter what era you're in. They always look great – so simple and effective.
I love doing a plait and crossing them over your head. When I was in Tenerfie, I had two simple plaits and it looked so cool. They're great for greasy hair. You can go to Primark and for £1 you can get black, clear and white elastic bands.
Essex girls love their tan! What's your go-to product?
I really like
Chloe Sims' Montana Tan 1 Hour Mousse
(18.95). It's mousse based with a mitt – much easier to control than a lotion and it's really smooth and has a nice luxurious feel.
And what tips have you got for perfecting that faux glow?
Most girls have had a spray tan, so just copy the professionals to the best that you can. Put Vaseline on your elbows, ankles and knuckles, and exfoliate beforehand. Get your mum or boyfriend to do your back too.
You always look stylish, what are your favourite high street shops?
I know it's boring, but it's got to be Topshop. It's just an essential in everyone's life. It's on trend and cool – you can get your basics there too. It's a girls dream! Even Kendall Jenner wore it on the red carpet to the Met Ball.
I also love New Look – they do really good shoes and amazing bikinis. I really like Boux Avenue, it's great for sleepwear. You feel like you're getting a Victoria's Secret feel with the drawers and striped wallpaper and the button in the changing rooms. It has that more expensive feel – but it's high street! I do like Office for shoes as well.
Got an iPad or iPhone? Reveal Mag is specially designed to fit!