Lily Cooper (nee Allen) showed off a fabulous manicure yesterday (25 July) and successfully combined both ombre and animal print trends into one fabulous nail look!
Lily took some well deserved time out from being a mum to pamper herself by
Kitsune Nails
at
Camiyui
salon in London's West End and we're loving her white to pink mani with leopard print tips!
Created with a combination of
Gelish
Soak-off Gel Polishes, this arty look is not an easy one to do at home but if you fancy giving it a go, make sure you're armed with everything you need, a steady surface to work on... and plenty of time!
You will need:
1.
Matte white polish. Try Essie Nail Enamel in Blanc, £10.95,
nailsbymail.co.uk
.
2.
A similarly creamy pink polish like Nails Inc Polish in Brompton Place, £11,
nailsinc.com
.
3.
A cocktail stick and piece of foil or grease-proof paper.
4.
A make-up sponge or bath sponge, cut into a small slice with scissors.
5.
Clear topcoat. Try Rimmel Finishing Touch Ultra Shine Top Coat, £4.49,
superdrug.com
.
6.
Barry M Nail Art Pen in Black, £4.99,
barrym.com
.
7.
Nail polish remover and a couple of cotton buds.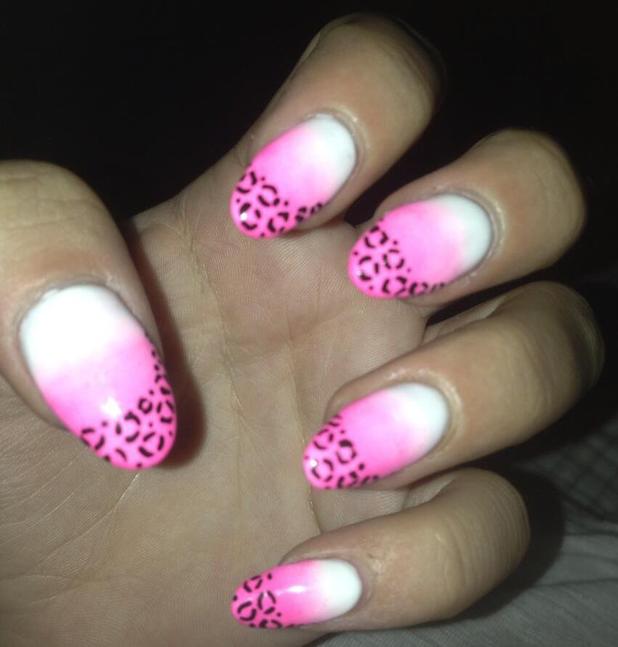 First, paint two thin coats of white polish all over each nail and wait for it to dry completely.
Next, pour a pool of white polish onto your foil or paper, then a pool of pink right next to it so they're touching in the middle.
Using your cocktail stick, blend the colours together in the middle so you get about a 1/2-1cm sized swirl depending on the length of your nails.
Dip your sponge into the colour then dab it lightly over your nail, making sure the white side is at the base of your nail and the pink colour is towards the tip. You might need to dab it a few times to get plenty of colour on your nail, but don't worry if you get it all over your finger too. You can clean this off later!
Repeat on all your nails then wait at least 10 minutes to allow all that polish to dry.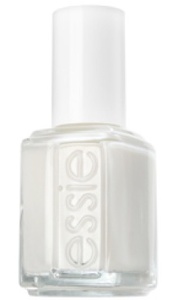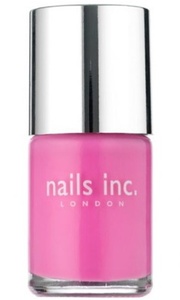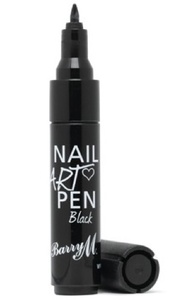 Sponging polish onto your nails can leave a rough surface, so try applying a clear topcoat to help smooth it down before finishing with your leopard-print tips.
Next, grab your black pen and draw small diamond shapes along the tip of each nail –
check out this video if you need help with your leopard print design!
Finish with another layer of topcoat, then clean around each nail with nail polish remover and cotton buds. You could also try using a very thin make-up brush dipped in remover, to help clean up the edges of your nails and your cuticles.
And FINALLY you're done.
Tricky? Yes. But worth it? Definitely.
Let us know what you think of Lily's latest nail design below. Our fave comment across the site each week wins £50!