As a Made In Chelsea girl, we assumed Binky Felstead had a make-up bag brimming with designer products and a hefty beauty regime to boot.
But we were so wrong! The reality star's make-up bag contains a mixture of products - including a £4.49 cleanser!
We spoke to Binky - who is the new ambassador for Halo Wipes - about her no-fuss make-up routine, holiday beauty must-haves, and her top diet secrets.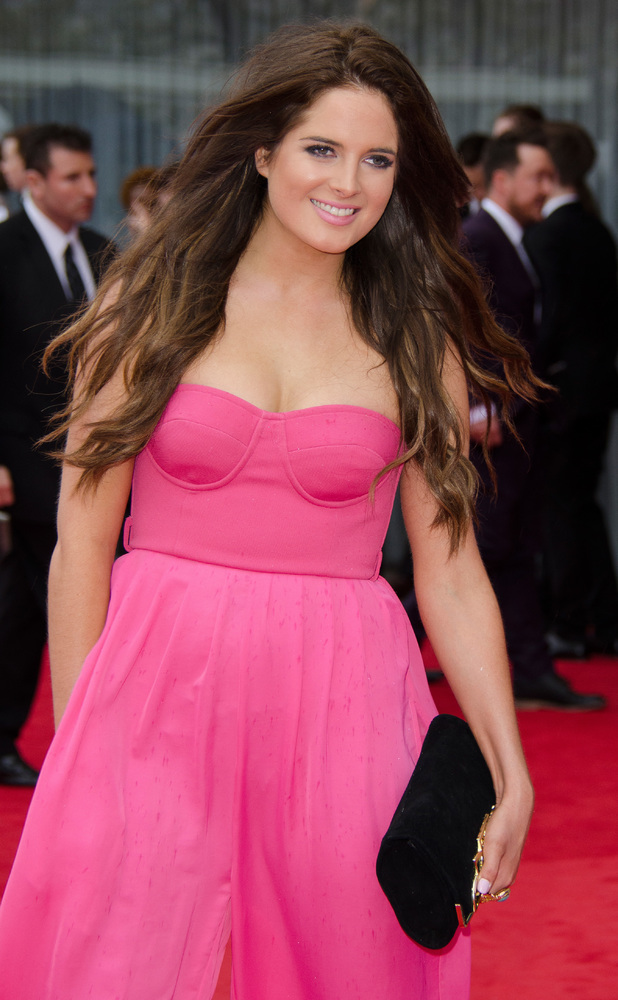 Can you talk us through your daily make-up regime?
"I use
MAC Face and Body Foundation, £20.50
, and
MAC Select Cover-up Concealer in NC30, £14.50
, for flawless skin, along with plenty of
Benefit Hoola Bronzing Powder, £23.50
, and lashings of MAC mascara. For my lips I like a classic nude, like
MAC Lipstick in Myth, £14
, or a bright pink for summer.
"I don't wear lots of make-up really; I'm pretty low maintenance. I don't wear blusher or eyeshadow, I just smudge a bit of
MAC Eye Kohl in Smolder, £14
, around my eyes with my fingers. I hate shopping, so I just get everything done and dusted at MAC."
Do you prefer a matte or dewy look?
"I think it depends on your skin type. I'm not that oily so I like more of a dewy look, and I don't use powder. Although I once saw a photograph of myself at a premiere looking far too glowy. I wish I'd powdered then!"
Any bargain beauty buys?
"I really like
Eylure False Eyelashes, £5.35
, and the
L'Oreal Paris Colour Riche Le Kohl Liner, £4.39
, is a really good, cheap eyeliner. I like
Rimmel 60 Seconds Nail Polish, £3.69
, and
Models Own Nail Polish, £5
, and Topshop have some cool pastel and neon nail colours in right now. I always like to have exciting nails. I'm really into white for summer - it looks great with a tan - or a really pale pink."
Which products do you keep in your handbag when you're out and about?
"I always carry my lip balm, bronzer, and foundation with me. I also have my
Halo Handy Hygienic Wipes, £1.20
, as they're amazing when you're on the move and need to wipe your hands. I like the
Halo Eye Make-up Remover Wipes, £1.53
, too, and the
Halo Deodorant Wipes, £1.20
, would be useful for a festival."
Any tips for making your make-up last?
"Use a good primer - I like
MAC Prep and Prime Skin Primer, £19.50
. I also spray
MAC Fix +, £13.50
, on my face after I've applied my make-up, and I always touch up throughout the day."
Have you picked up any make-up tips since appearing on MIC?
"I've learnt to mix my foundations to get the perfect colour. Putting a light coloured eyeshadow on the inner corners of your eyes makes you look more awake, and applying concealer around your lips when you're wearing dark lipstick makes your pout look fuller.
"To make your face look thinner, apply bronzer on your temples, and contour your cheeks and jawline. Oh and big eyelashes are obviously always best!"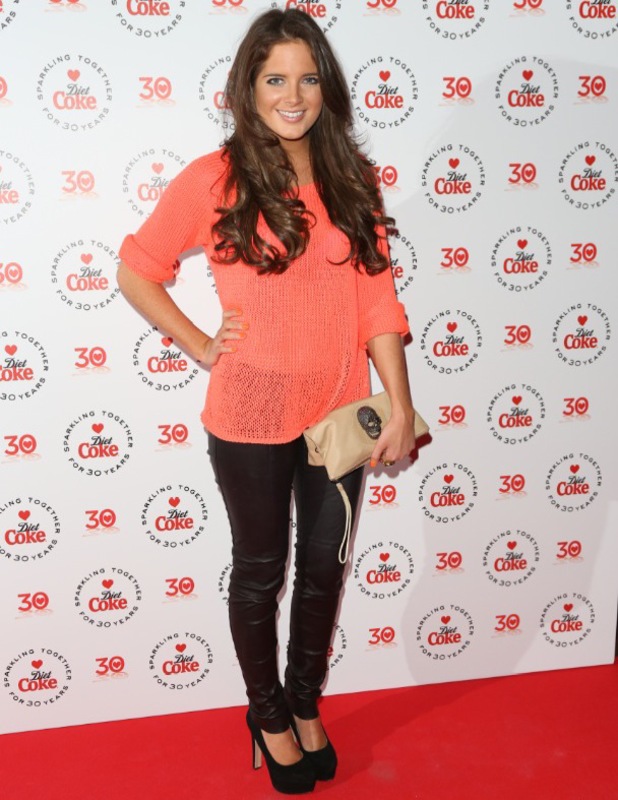 What are your top tips for getting good skin?
"Drink plenty of water and moisturise your face and neck day and night – I use the
No 7 Day Cream, £12.50
, and the
No 7 Night Cream, £13.50
. I don't really do face masks, I think if you start messing around with that kind of stuff when you're young, you'll mess up your skin. My mum always said not to use expensive creams when you're young because your skin will get used to it, then you won't be able to do anything when you're older.
"I also use the
Ponds Cold Cream Cleanser, £4.49
. It's a thick paste which you take off with a tissue. I always feel so much better after using it, like I've given my skin a good drink. All the girls in my family use that cleanser and that's why my mum has such good skin."
If you could look like any celeb, who would it be?
"Angelina Jolie. She's the most beautiful woman in the world, everything about her is perfect."
What is your favourite feature?
"My nose. Apparently I have a good nose, not that I can see it! I like my legs too."
And your least favourite feature?
"My hips, they're too wide. I really don't like them but I'm going to try and bust them off at boot camp in a couple of weeks."
How would you prepare yourself for a summer holiday?
"I'd have a spray tan immediately, as I don't want to be the whitest whale on the beach! I'd pack a good sun cream such as the
Nivea Sun Spray, £12.59
, or the
Hawaiian Tropic Protective Dry Oil Spray, £12.59
, which has a nice coconut scent.
"A tinted moisturiser with SPF is essential, because you don't want to wear lots of make-up on the beach but you still want a bit of coverage. I always get eyelash extensions so I don't have to wear mascara, and I get my eyebrows tattooed at Pow Brow by Debra Robson on Harley Street."
Any DIY fake tan tips?
"Always use a mitt, and shake the bottle before use. I like the
Vita Liberata Dark Self Tan Lotion, £22.50
, for a nice DIY colour, or the
St Tropez Dark Self Tan Bronzing Mousse, £28.05
, which has a nicer smell. I've ended up with streaks on my arms before, but after you do it a few times you learn what not to do again. I start on my arms, then I do my tummy and neck, before working down to my legs."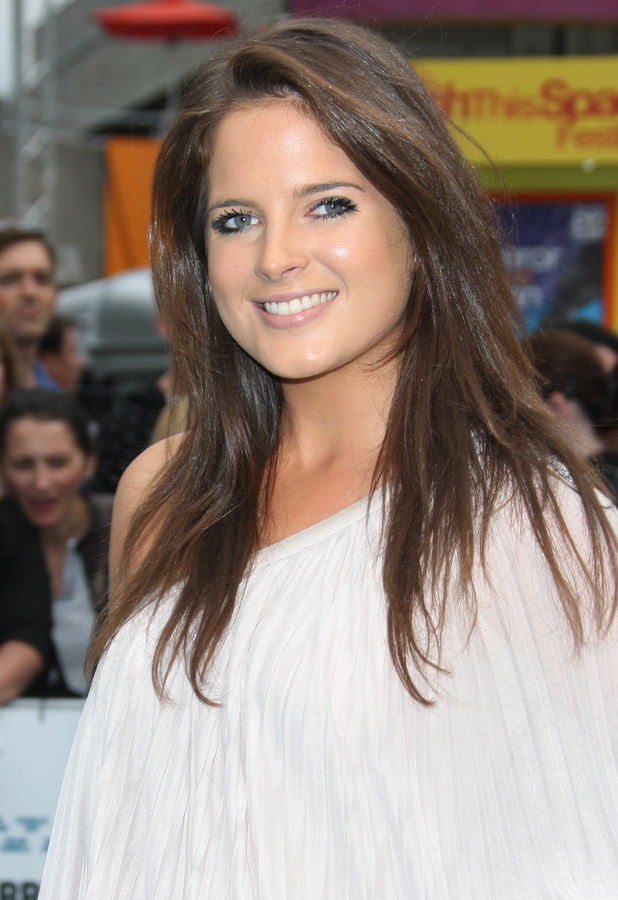 How do you style your hair in the morning?
"I don't style it myself! I have Easilocks extensions, and my hairdresser Mikey Kardashian does them. It takes about three hours to style my mane. I have a lot of extensions and they're quite heavy, but I love them because they give me loads more volume. He blow-dries my hair with a big brush before running a curling wand through it."
If you were going for a night out, would you quickly style your hair yourself?
"No. Well, maybe I'd whack a curling wand through it for a bit of body and backcomb the roots. I might add a bit of
Batiste Dry Shampoo, £2.99
, if it's feeling greasy, because I only wash my hair once a week."
Have you felt a lot of pressure to stay slim since appearing on Made In Chelsea?
"Yes, all the girls on the show are so slim. You have to feel comfortable in yourself, and if that means feeling slimmer, then fine. You have to look good.
"I'm very critical of myself, I think it's because of an ex-boyfriend. So if I feel I look chubby or fat, I just can't watch the show. But it's good because it kick-starts me into doing something like boot camp."
How do you maintain your weight?
"I make sure I eat healthily, but I do eat big portion sizes and I eat quickly which isn't very good. I try to cut out carbs after 5pm, I sprinkle chili on all my food to speed up my metabolism, and I drink water with lemon as it fills me up and it's good for my skin. I also allow myself to have a naughty day every sixth day so I have something to look forward to."
What do you think of new MIC girls Phoebe, Fran, and Olivia?
"They've brought drama to the show. One of them in particular hasn't been the most popular because she's been a bit of an idiot, but she has apologised and I've accepted her apology. You can probably guess which one that is! I like Fran, and I think Olivia is sweet. They're not really a threat to be honest."
What do you think of Binky's make-up routine? Let us know by commenting below as the best comment across the site each week wins £50!