Jersey Shore star Snooki tricked us into thinking she was going a dark plum hair colour yesterday... then she tweeted this picture last night revealing she's actually gone back to red!
Early yesterday afternoon, Snooki, real name
Nicole Polizzi
, shared a
picture of herself mid-transformation
and had us all believing her hair was going an even darker plum than normal.
But it seems that photo was just a taster of what was to come...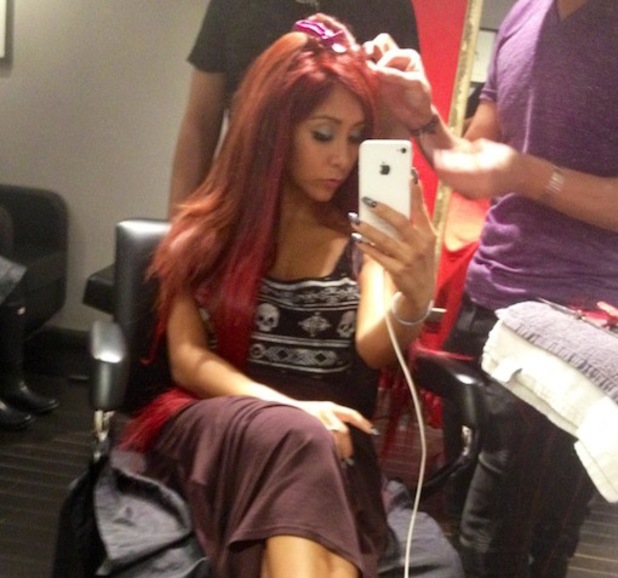 She finally posted this picture last night and one fan, who begged "PLEASE GO RED AGAIN" earlier in the day, is bound to be particularly pleased with the results!
"After almost 8 hours of putting in new extensions and dying, Bradley is almost done with the masterpiece!!! I got my mermaid hair back!!!!! Almost done!!" Snooki wrote.
Eight hours in the salon you say, Snooki? Wowza, we can't wait to see it in all its glory on the red carpet.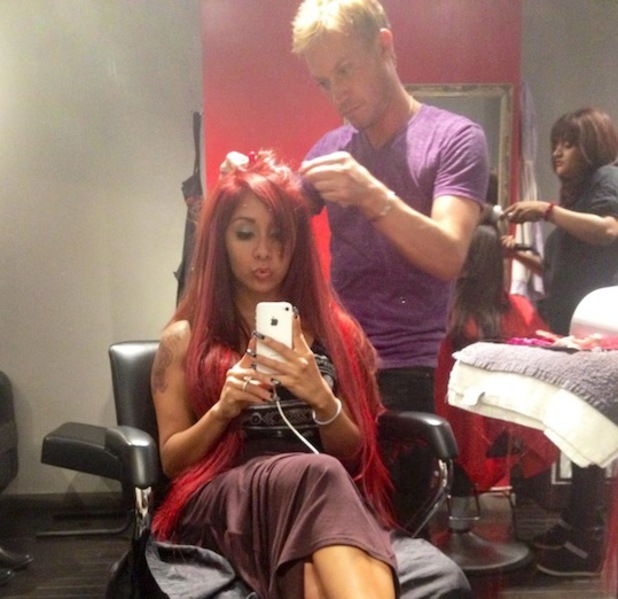 Snooki's new hair comes courtesy of
Great Lengths
extensions and the skills of celebrity hairdresser, Bradley Moreland at New York City's
Gemini 14
salon.
And Bradley also Instagrammed a cheeky picture during the hair transformation... although his was a photo of himself holding up Snooki's old plum-coloured extensions!
"@snooki's old extensions!!! eBay here i come!!! #PsychoFanImpersonation LMAO"
Love it! And how hilarious if he actually DID sell them on eBay?!
Do you prefer Snooki as a redhead, or with darker, plum coloured hair? Let us know your thoughts below. Our fave comment across the site each week wins £50!
Read more:
How to do Nicole Snooki Polizzi's sexy black and white nail art
Read more:
Snooki documents baby son Lorenzo getting his first haircut!