We caught up with the Britain's Got Talent judge and pop starlet, Alesha Dixon to grill her on all things beauty.
Here's what she had to say to Beauty Director, Georgia Goodall...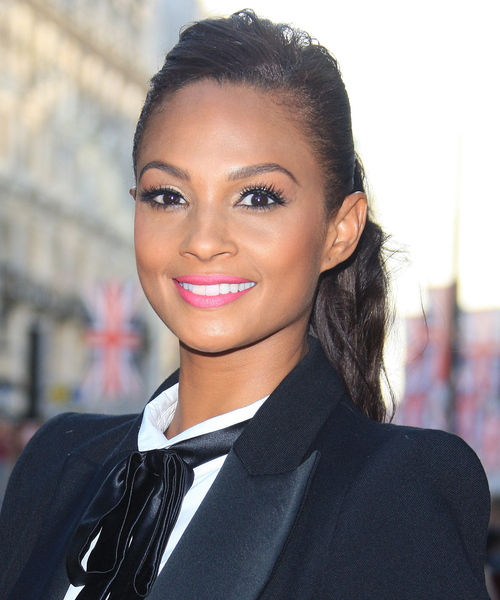 So Alesha, what are are your favourite beauty treats?
I love exfoliating with The Sanctuary scrub and my favourite fragrance is Jimmy Choo. Ooh and you can't go wrong with Eight Hour Cream, which I use on lips, dry patches, even on my hair if I don't have any serum nearby!
How do you keep your skin looking fab for the cameras?
I'm lucky I have normal skin so I just let the make-up artists do their job! The products we use on TV are totally different to what I'd wear myself, though, I'm always powdered up for the cameras but would never wear powder at home.
What do you use after filming to thoroughly cleanse your skin?
I never wash as it feels too stripping on my skin. I'm a wipes girl and find the Johnson's ones the kindest. I then slather my face with Clinique cream to replace all that lost moisture.
What tricks have you picked up from beauty insiders over the years?
Before working with make-up artists I totally ignored my eyebrows but now I've learnt how important they are. If you clean them up and get them subtly tinted, you can almost get away with wearing no other make-up.
You've been working with Avon as their Beauty and Empowerment Ambassador, what are your favourite Avon products?
My ultimate is the Ideal Flawless Foundation in Caramel (or Nutmeg in summer) as it's really kind to my skin. I also love the Gel Eyeliner which is quick to apply and stays on all day.
We all have a few beauty rules we swear by – what are yours?
I always take my make-up off before bed, no matter how much I've been drinking – mainly because I have white pillow cases, so don't want ruin them! I drink water all day long and I try to work out whenever I can as it makes my skin as well as my whole body feel better.
Any beauty hang-ups?
Not getting enough sleep and having to get rid of puffy eyes before a TV appearance. My trick is to put a couple of teaspoons in ice and then to lay down with the spoons over my eyes.
And lastly who, in your opinion, epitomises beauty?
For me, Cheryl Cole. She radiates beauty and not only looks gorgeous but is a lovely person inside. What you see, really is what you get.
Don't forget to let us know what your all-time favourite beauty product is in the comments box below...
Read more:
Find out what Nicole Scherzinger's fave beauty products are
Read more:
Pregnant Fearne Cotton launches new very.co.uk collection
Check out a gallery of Alesha's favourite products below: