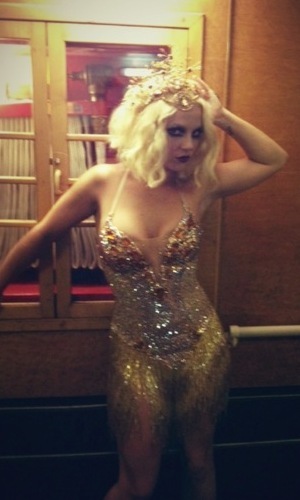 Britney Spears turned into Cleopatra last week and now she is working a sexy Hollywood '30s look.
Shooting her latest fragrance campaign, our Britters has properly upped the 'wow' factor in this gold sequin flapper dress and flamboyant headpiece and she's clearly pleased as punch with the vampy look.
"Loving day 2 of my
Elizabeth Arden
Fantasy Twist fragrance shoot. Jason says I look like Jean Harlow!" she tweeted.
Well it's definitely a far cry from velour trackies and shaven heads, that's for sure!
Britney's perfumes make up a whopping one third of the celebrity fragrance category making her pretty much the queen of celeb scents.
On sale in September, Fantasy Twist is a cheeky two-in-one bottle that splits into two of her best-selling fragrances, Fantasy and Midnight Fantasy.
Aha, hence the two completely different outfits. Nice touch.
Do you like Britney's fragrances?Read more: Britney Spears dresses like an Egyptian! See the picture!Read more: Mel B copies Britney Spears's dress: Who wore it best?