She's captured the heart (and hopes!) of the whole nation and we were lucky enough to catch a quick pre-Olympics beauty chat with Jessica Ennis in her role as UK Brand Ambassador for Olay.
Here's what she had to say about having to look good in Lycra...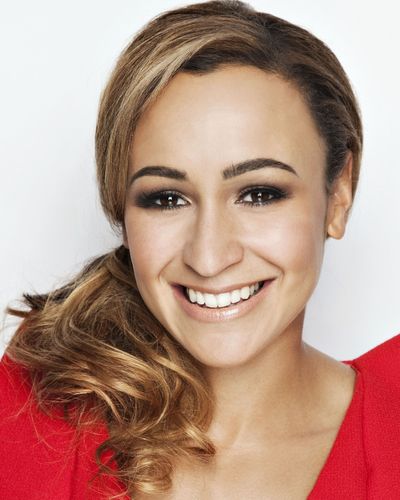 Do you have a strict skincare regime?
"I'm terrible with moisturisng my legs and body because I'm training so much, so I don't have time!" says Jess. "I always cleanse and moisturise my face, though. I don't like anything to clog up my skin, so I stick with very light creams with a high sun protection factor – 30 at least."
Is sun protection a big deal for you?
"Absolutely, you've got to protect you're skin. I don't want to be looking back when I'm older, wishing I'd worn a higher sun factor. I'd never go lower than SPF15 on my body and 30 on my face."
Do you change your routine when you're not training or competing?
"If I've got a bit of time off or having a break at the end of the year, I spend much more time cleansing, moisturising and pampering myself. When I'm training, everything is really rushed, so it's nice to be able to have a proper three-step routine."
So, what do you do to relax and pamper yourself?
"I love having hot bubble baths to relax my muscles, but if I get a weekend off (which is very rare!) I love going to a spa. That's my ultimate."
Do you have any beauty must-dos?
"Even if I've had a few glasses of wine, I'd never go to bed with my make-up still on. I think it stemmed from when I was a teenager and I'd wake up with mascara sort of glued together!"
Your skin is a fab colour – do you fake tan?
"No, never! Lots of girls wear it but not me. I'm quite lucky as I tan really easily – I'll be on the track and within two minutes with a crop top on I've got lines!"
Lastly, if you could look like any celebrity, who would it be?
"That's too hard! There are so many beautiful women around... I really like Cheryl Cole's style and I love Jennifer Aniston – she's stunning. Then there are people like Eva Longoria, Eve Mendes and Jessica Alba who are gorgeous... No, I just can't choose one!"
Jessica Ennis is the current UK P&G Brand Ambassador for Olay. Her favourite products are the Olay Essentials Daily Facial Cloths, £3.99 and Complete Care SPF30 Day Lotion, £10.29.Read more: Does Jessica Ennis wear make-up when she is competing?Read more: Victoria Pendleton's beauty secrets!Read more: Louis Smith: 10 reasons to love the gymnast