Sarah-Jane Crawford has given Reveal the lowdown on her beauty regime, and also dished the dirt on what it's like backstage at The X Factor!
The
Xtra Factor
presenter always wows with her striking signature red pout and flawless skin, so we were more than happy to have a snoop through her make-up bag.
She also talked us through her skincare routine and top contouring tips, and discussed which
X Factor
judge is the biggest backstage diva, plus what it's like in Simon Cowell's dressing room (which is pretty epic, by the sounds of it!).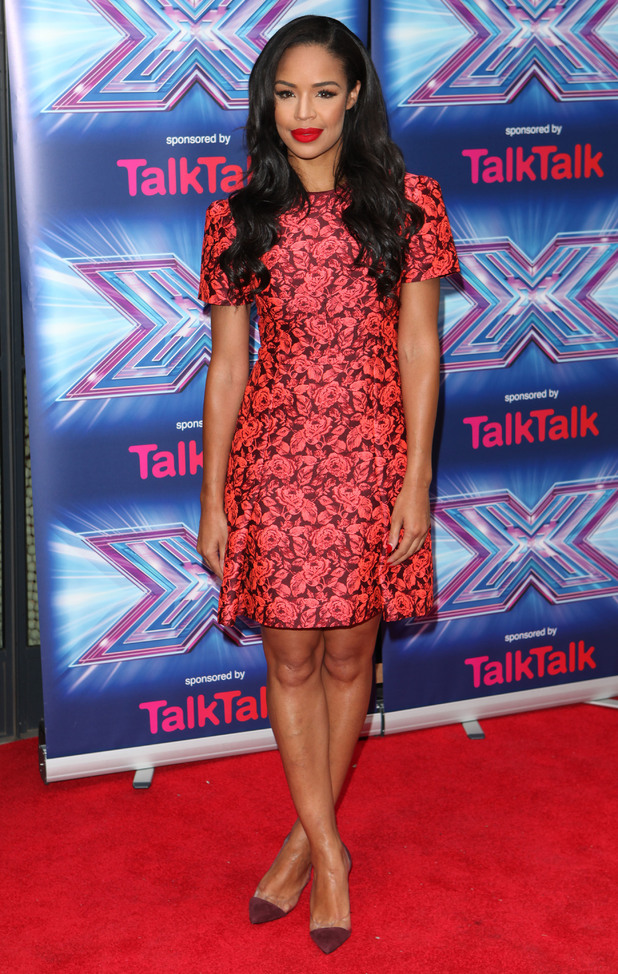 Your make-up always looks flawless. Talk us through the products in your beauty bag...
"Well if it ever looks flawless - which it certainly doesn't today - it's because I've got a brilliant make-up artist! But even when she's not there, I have certain key products that I always use -
MAC Studio Fix Fluid Foundation, £21.50
, in either NW40 or NC45, and
MAC Lipstick in Ruby Woo, £15.50
. I apply
Laura Mercier Secret Brightening Powder, £18.50
, and there are a few different mascaras that I like by Lancôme and Yves Saint Laurent, and
Maybelline Volum' Express The Colossal Mascara, £7.19
, is amazing. Unless I'm going to an event, I try to just keep things natural. I can't be bothered to spend ages on my make-up! It's really funny because the other day I went to do my [Radio 1Xtra] show and U2 walked past. I said to my producer, "I have to get a selfie with them but I have no make-up on!" I quickly chucked on a bit of foundation and red lipstick and got a little picture."
So you wear no make-up on a day-to-day basis?
"I would normally wear nothing, but that's not because I think I look great natural! I just jump out of the shower, chuck on an outfit and run out the door, I barely even brush my hair. Then as the day goes on, if I think I'm going to bump into someone or if I've got a meeting, I'll start putting some make-up on gradually."
You always sport your trademark red lipstick - are you going to switch things up for autumn?
"I think reds and nudes are my favourite lip colours, purely because I haven't found any other shade that suits my style. For me, pink looks a bit candy and it isn't timeless, it's not really me. Whereas red is classic and goes with my dark hair. Sometimes in the winter I like a deep berry red, but you have to be careful with such a dark colour - it has to stay on your lips and not crack."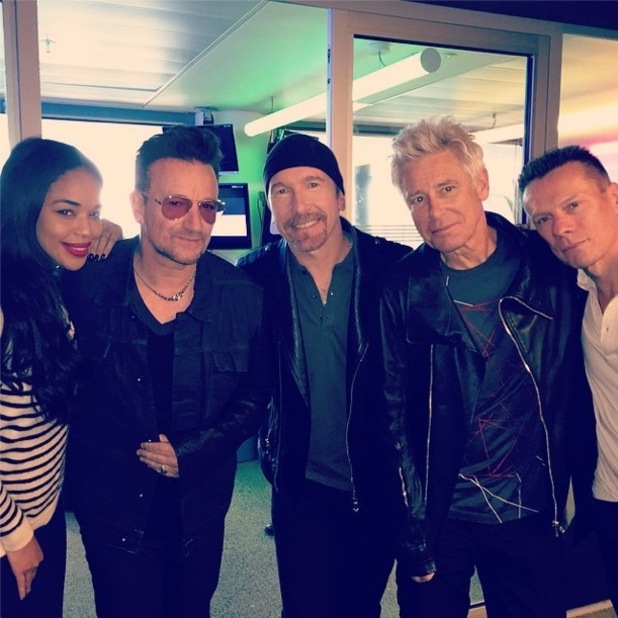 How do you keep your nails in tip-top condition?
"I've just discovered
MICRO Nail, £39.99
. Sometimes I don't have time to get my nails done so I use that to make them look shiny. People think my nails look really well manicured, even though I haven't sat in a shop and had them done! As for colours, I was in Liberty the other day buying a shirt, and the girl who served me had amazing nails, they were long and pointy and painted a deep, deep purple. I thought, "Right, I'm doing that!" So now I've got that colour on my hands and toes. I also like
Chanel Le Vernis Nail Colour in Rouge Noir, £18
, I always have a pot of it kicking around."
Talk us through your skincare routine...
"I keep it quite simple because I've got dry skin, if I use a harsh cleanser it really exasperates it, so I use something like
Simple Kind To Skin Moisturising Facial Wash, £1.50
, in the shower, then my
Clarins Toning Lotion, £19
, followed by a serum and a moisturising day cream. I also use
Bobbi Brown Hydrating Eye Cream, £32
, because my eyes always get dry, then a bit of
Vaseline Lip Therapy Cocoa Butter, £2.18
, on my lips.
Do you ever get spots, and if so, how do you tackle them?
"To be honest I'm really lucky with spots - I don't really get them unless I'm out partying and not getting much sleep, burning the candle at both ends. I actually get mouth ulcers more than anything if I'm run down. I would just try to eat healthily, I have a
Nutri Bullet, £99.95
, that I fill with fruit to make smoothies and juices. Today I added blueberries, a scoop of protein shake and some almond milk."
You're currently presenting The Xtra Factor - how long does it take to get ready for the show?
"We get ready way in advance to take the pressure off, so I'll start getting my make-up done soon after one o'clock, we spend a good two hours on it. I need professional hair and make-up to look half-decent on TV, so I'll have [my make-up artist] Pauline sticking on an eyelash while [my hairdresser] Lorraine tongs my hair! Then at around four o'clock we'll do a dress rehearsal, then I watch the main show, make notes on what to ask the judges, and then half an hour before I start filming, I'll have a little make-up touch-up."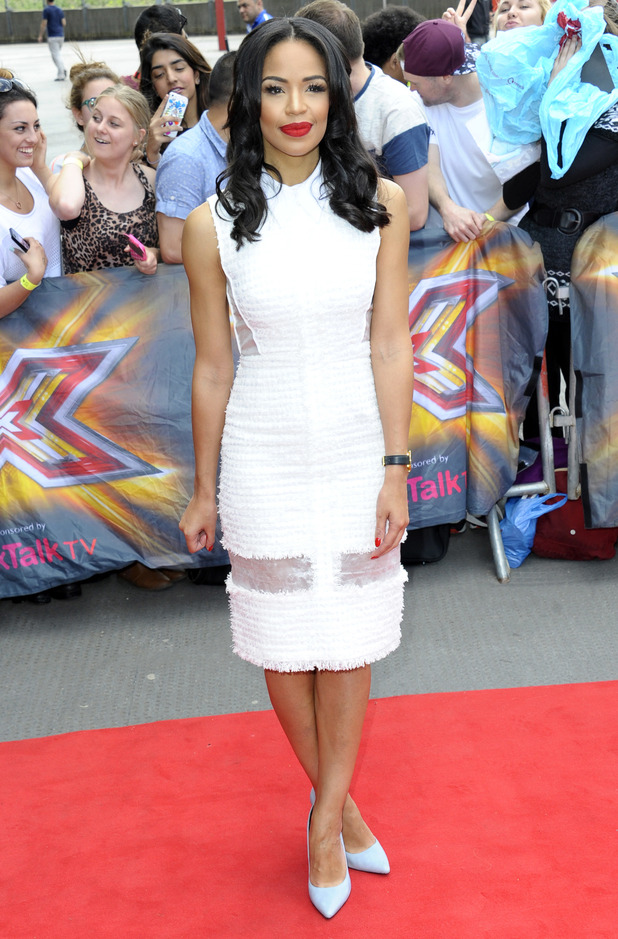 What's your dressing room like?
"It's really nice actually, I'm quite lucky, I've got windows! Some people downstairs don't have windows - I'm making it sound like prison, aren't I?! I'm three doors down from Simon so that's fun, I can always knock on his door and be like, "What do you reckon to this?" He always says his door is open if you want to ask him about anything. I burn a nice Neom Organics or a Jo Malone candle in my dressing room, and I have a little dress rail, a shower, a big mirror with those classic dressing room lights, and a grey sofa so I can have a nap!"
Which judge is the biggest diva while getting ready for the show?
"I've never really seen any of the others getting ready. I would say Mel B is at the opposite end of the diva scale. She's really cute, like the other day I was doing my rehearsals, the audience was filling up and Mel just walked in wearing a big bear onesie! There aren't really any divas, Simon isn't a diva but he's got loads of make-up and eye drops and things. His dressing room is massive, he's got surround sound, windows and a massive bathroom. His bathroom looks like something you'd expect to see in a penthouse suite, it's quite amusing."
Have you picked up any great make-up tips while appearing on The Xtra Factor?
"Well, Pauline doesn't give me tips because she doesn't want me to do without her! But once I went to film
I'm A Celebrity... Get Me Out Of Here Now!
, and I couldn't go with her because it was in Australia. So Pauline sent me an email with a list of everything I needed to do, it was basically a step-by-step guide on how to contour! If you want to make like Kim Kardashian West - I love her make-up - then you need to contour with a lighter product under the eyes, then a darker product under your cheekbones, chin and around your temples. And another tip is always make sure you moisturise well before whacking on the make-up!"
Sarah-Jane Crawford uses MICRO Nail, an electric nail polisher that gently buffs nails leaving them naturally beautiful, healthy and shiny in just a few seconds. MICRO Nail, £39.99, is available from Boots.com, selected Boots stores and micronail.co.uk.
What do you think of Sarah-Jane's beauty tips? Let us know by commenting below as the best comment across the site each week wins £50!
Reveal is now on Google Plus! Join us here for the latest pictures, fashion and celebrity news!
Got an iPad or iPhone? Reveal Mag is specially designed to fit!