TOWIE's Danielle Armstrong has opened her first-ever clothing boutique, and Reveal popped along to check it out while also nabbing a beauty chat with the lady herself!
Danielle's new store, named Danni, is stocked to the brim with cute printed co-ords, flirty thigh-grazing playsuits and long, flowing maxi dresses, mostly designed by the starlet herself in collaboration with
ILWF
(which is where Danni's worked for years).
For the decor, Danni took inspiration from an ice cream shop she once spotted in Italy by opting for classic shades of cream, white and black, along with a touch of glitz thanks to a couple of statement chandeliers. After all, as she says, you've got to have a bit of bling in Essex, don't you?!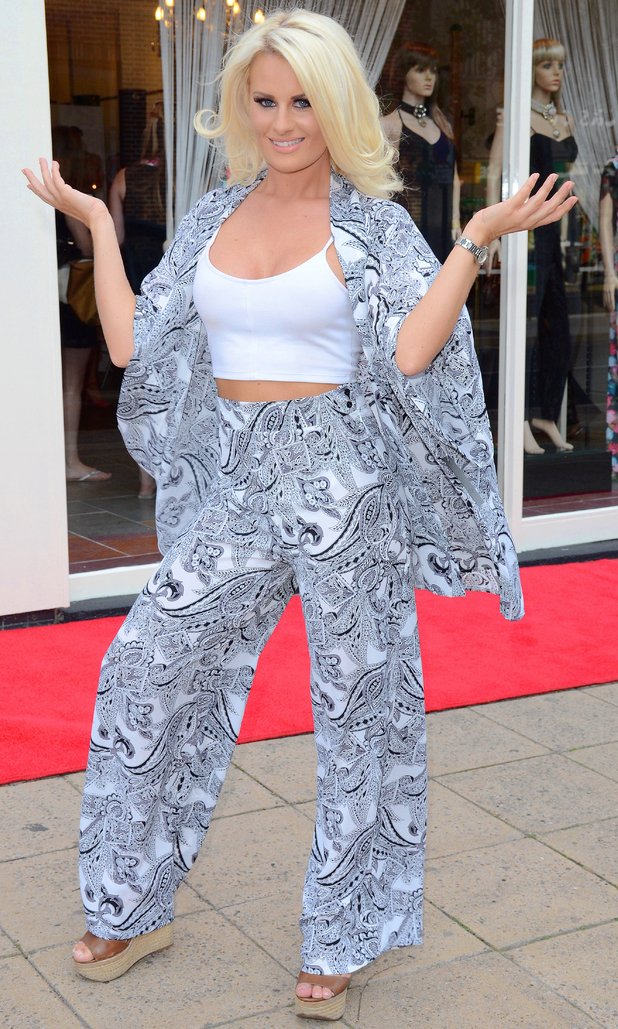 And it's not just her shop which brought a dose of dazzle to the Hornchurch high street - Danni looked impossibly glam herself!
Chatting away with her platinum blonde locks pinned up in curls while sporting a full face of immaculate make-up, the starlet showcased her figure in a little white crop top and paisley print palazzo pants teamed with a matching kimono. It's fair to say we felt a
little
underdressed while standing next to the Essex lass!
But after having a browse around her new store, we soon got down to business and quizzed the fashion lover on her top beauty tips, the lipstick she can't live without and the magic weapon behind her luminous cheekbones...
How has your beauty look changed since you first appeared on TOWIE?
"Before
TOWIE
, all I did was put a bit of moisturiser and
Bio-Oil, £8.99
, on and a bit of bronzer. That was it! Then Ferne McCann was like, 'You need to do more to your face... you need to get some more make-up!'. I didn't know anything about contouring, or that there were certain foundations that are better for the camera. I listened to Ferne and in Marbella I saw everything she had. I never used primer before, I didn't realise it did anything, but I like to use it now. I also use
MAC Studio Fix Fluid Foundation, £21.50
. I quite like smoky eyes and I always wear false lashes because I think they open up your eyes a lot more, either extensions or strips. I've just got strips on right now because sometimes extensions can damage your lashes, so it's nice to have a break from them."
What would you say is your signature beauty look?
"I like to keep it natural, but I mean Essex natural - so orange natural! My lips will always be nude, I hate any colour on my lips. I've tried the red lip look, I thought with my blonde hair and fake boobs I'd go for a Scarlett Johansson-type look, but no! I just looked like a tart, it didn't suit me. So I always wear
Bobbi Brown Lip Colour in Salmon, £19.50
, it's quite soft with a few pinky tones."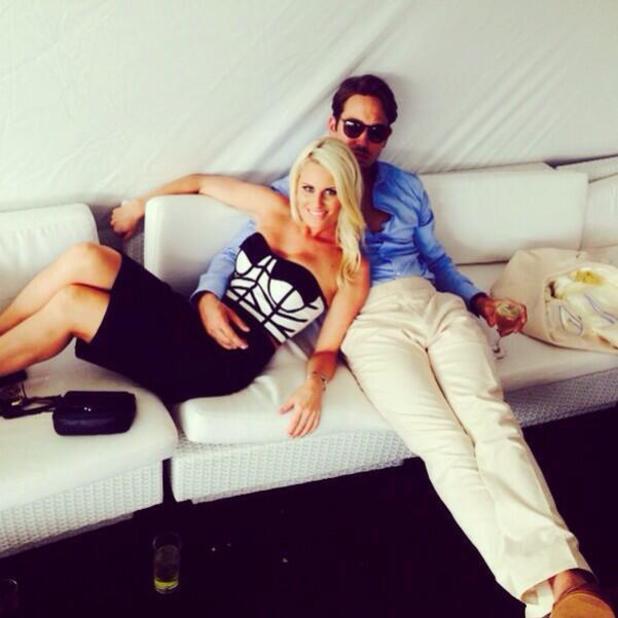 Talk us through your favourite make-up products...
"If you're going to use fake eyelashes,
Duo Adhesive, £10
, is the best glue ever. I like
MAC Pro Conceal and Correct Palette in Medium, £35
, I use the pinky tone to highlight just above my eyebrows and the other shades for any spots, blotchiness or blemishes... especially handy if I've been out the night before! It's the best for coverage. I use
Bobbi Brown Bronzing Powder in Natural, £28
, I used to use the Medium shade but then when I looked back at pictures it looked a bit blotchy, so I don't think it was sitting well with my skintone. And I love
MAC Powder Blush in Style, £18
, it's my favourite blusher ever. Those are my key pieces. And of course my Salmon lipstick, it's what everyone on
TOWIE
talks about. I've made this lipstick famous! After each episode, I easily get about 100 tweets asking what lipstick I wear and it's always the same one. So I like pinky, nude and bronze colours."
What is your top bargain buy?
"My Bio-Oil, I get it super-cheap from Primark. I had my boobs done so I originally bought it for the scars, but then I saw one of the Kardashians use a little bit on her face. I didn't think of using it there before, but it makes sense. I don't cake it on because it would go really greasy, and it wouldn't be good for people with oily skin. But my skin gets quite dry around my nose, so I use a tiny drop. Then I put my primer and foundation on top and I feel the Bio-Oil gives me that little extra glow."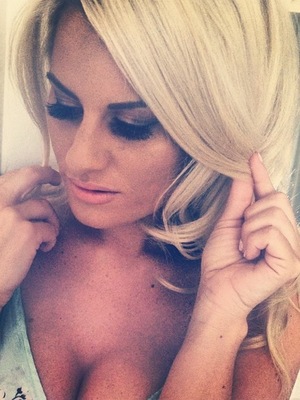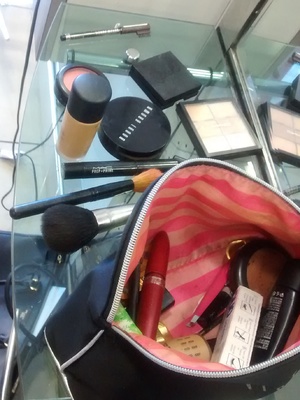 Essex gals love a bit of contouring and highlighting - do you have any tips for nailing the look?
"Yes, I use my magic pen! I love it! It's the
MAC Prep + Prime Highlighter, £18.50
, I put a bit on the back of my hand, then get my brush and dab it on the top of my cheekbones and down my nose. It gives such a nice highlight, then I put my bronzer just underneath the areas where I applied it. It gives a nice sheen too, I don't know how but it does!"
Do you feel confident going out without make-up on?
"One thing I do feel weird about is if I haven't got my lashes on. To be honest, I usually don't have make-up on, it's really weird when people ask for a picture, they must think I look completely different! But if I've got my lashes on, then I don't ever wear make-up. I think it's good to give your skin a nice breather, because I wear so much when I'm filming or on photoshoots. If I pop to the shops I'll just put sunglasses on!"
What is your ultimate beauty tip?
"For me, drinking water. I didn't drink much water when I was younger, then I started when I was 22 or 23 and noticed a massive difference. I get dehydrated so now I try to drink as much as possible. Also, moisturise every day and night. And of course I use my Bio-Oil!"
Out of all your TOWIE co-stars, whose beauty look do you admire the most?
"I would say Chloe Sims, she's so amazing at make-up. In Marbella it looked like she'd had it done professionally every day. And Ferne's really good at make-up too."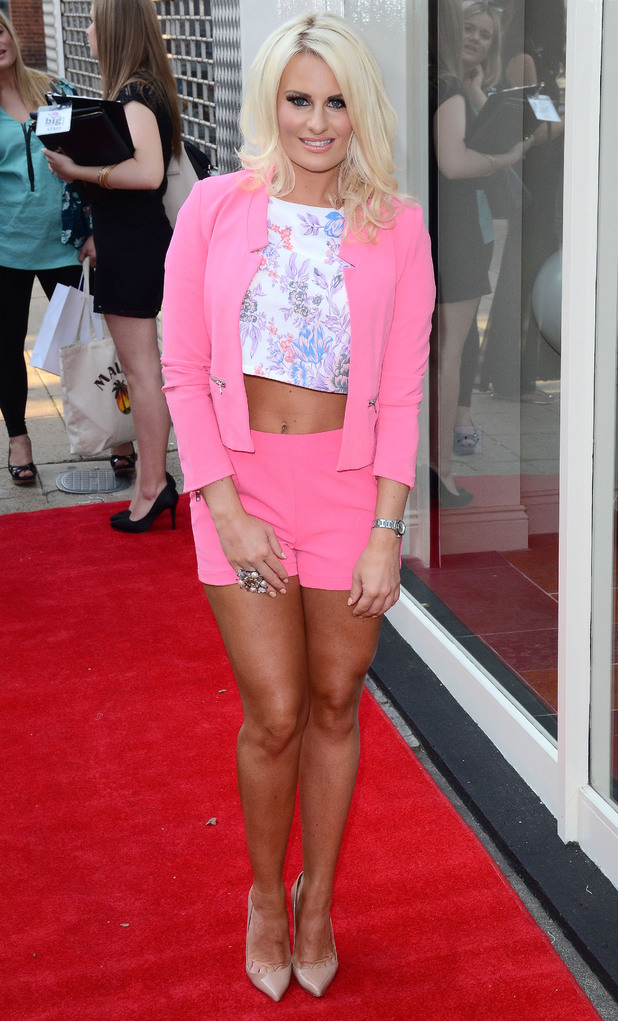 Have you ever watched an episode of TOWIE back and hated the way you did your make-up?
"Every time! I hate it. I have a make-up artist who works for MAC, and she does my make-up really nicely when I go to events. But nine times out of 10 we'll be filming in a coffee shop or somewhere like that and I rush through my make-up myself. Then I watch it back and think, 'Why did I rush it, I should have spent a bit more time!'. But it's real life isn't, we haven't all got time to spend hours doing our make-up!"
Talk us through your skincare routine...
"I know it's so cheap, but I use
Nivea Creme, £3.39
, It's quite thick so I just put a little bit on. Then I have a Lancôme serum which is really nice, I apply it just before I put my make-up on. I like to keep things simple, I don't think it's about spending a lot of money. For me, good skincare is just drinking water and moisturising, even with the cheapest moisturiser. I heard that Kate Middleton uses Nivea, so there you go!"
You also always look perfectly bronzed - what are your top fake tan tips?
"I use
Fake Bake Airbrush Instant Self Tan, £27.95
. I do a good bit of exfoliation the night before and moisturise my elbows and any dry patches, then sometimes I spray the tan on my mitt and rub it on, but to be honest I find it easier just to spray straight onto my skin. But before I tan I get a bowl of hot water and squeeze a little bit of lemon juice into the water. You will always get a bit of tan stuck between your fingers, so once I've tanned I'll get a flannel, dip it in the water and just rub it over those areas. And your eyebrows can go ginger with fake tan, so I take a cotton bud, dip it in the water and go over my brows."
Have you had any really bad fake tan disasters?
"Definitely when I was young, during my prom days I think I went a bit too orange. But apart from that I've been fine... luckily!"
What do you think of Danielle's beauty tips? Let us know by commenting below as the best comment across the site each week wins £50!
Reveal is now on Google Plus! Join us here for the latest pictures, fashion and celebrity news!
Got an iPad or iPhone? Reveal Mag is specially designed to fit!