Chloe Sims is the proud owner of her own tanning range, so it's fair to say she knows her stuff when it comes to achieving the perfect faux glow.
So when we quizzed the
TOWIE
star recently, we made sure to dose up on her top fake tan tips, plus her must-have make-up products.
She also let us in on the secret product behind her voluminous barnet - and it costs just £3.79.
Hello, big hair!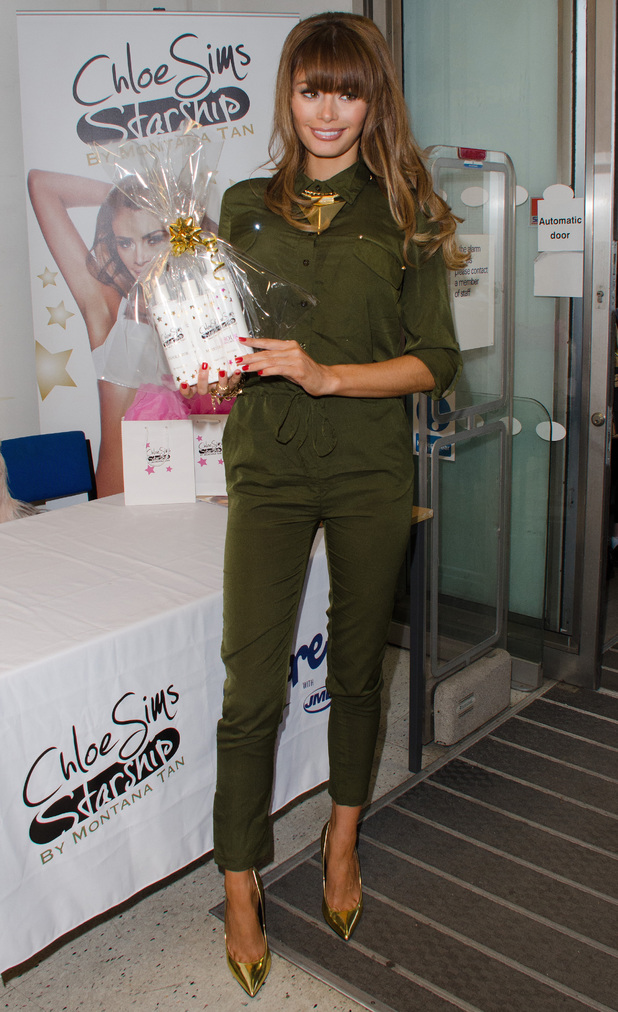 You always look bronzed and glowing, talk us through your fake tan routine?
"First I exfoliate in the shower with an exfoliating glove, then I moisturise the really dry areas like my knees, elbows, ankles, toes, hands, under my arms and a little bit under my bust too. I use my
Chloe Sims Tanning Mitt, £2.95
, but I buy plastic medical gloves and wear them underneath so I don't stain my hands. My mitt has two sides - a buffing side and a velvety side. I use my
Chloe Sims One Hour Tan, £15
, and apply it in strokes using the velvety side, then I use the other side on areas which can get a bit clogged with product. It helps get rid of any build up.
"I then use the excess tan left on the mitt and glide it over my hands. Afterwards, I take a wet wipe and go around the outline of my foot because the skin there is dry, so your tan can go really dark. For my face, I first use a lot of moisturiser, then I'll apply two pumps of tan on a big MAC make-up brush and just put it over the areas where the sun would naturally hit, before blending down to my neck."
Any tips for cleaning up mistakes?
"If you make a mistake, the best thing is to take it off there and then with a wet wipe, then blend over with a little more tan. But if that doesn't work, Primark sell exfoliating wet wipes which are £1 for a packet. They're really good, especially for getting into awkward places like your neck or between your boobs!"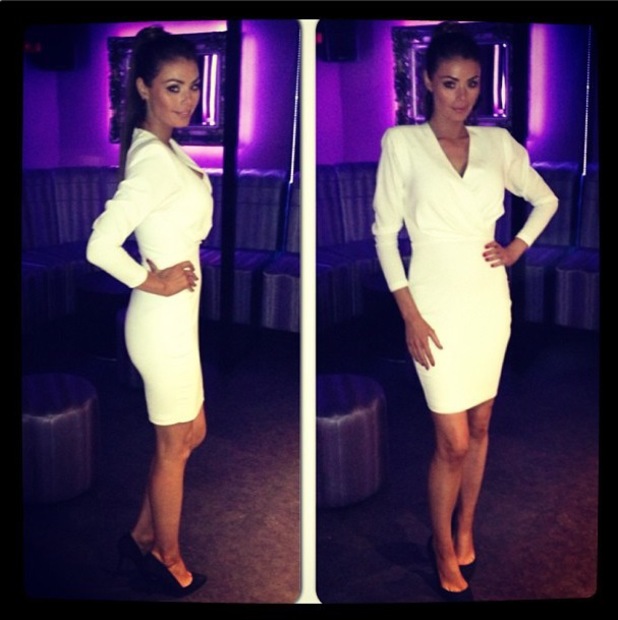 Let's talk about make-up - what are your favourite products at the moment?
"There's a brand I really like called Make Up For Ever, I found it in St. Tropez when I was on holiday. I first use
MAC Studio Sculpt SPF 15 Foundation, £25
, then apply
Make Up For Ever Pro Finish Foundation, £29.75
, over the top for a really flawless look. I'm also using
Smashbox Bronze Lights Bronzer, £23
, it's quite dark so I only apply a little. I like MAC Limited Edition Mineralize Skinfinish in Centre of Attention, which I use on my cheekbones for a shimmer, and for eyeshadows I like the
Urban Decay Naked Palettes
. I own the
Urban Decay Naked Basics Palette, £22
, and the regular ones too. I've also been using
Smashbox Photo Finish Foundation Primer, £25
, and my favourite mascara is
Bobbi Brown Everything Mascara, £19
.
"Another brand I like is called KIKO. It's really reasonably priced and they have loads of good colours and new products to try. I've been using their
KIKO Rock Idol Lipstick, £7.90
. I'm into dark lip colours at the moment, but I hate the way the inside of your lipstick always comes off first and gets stuck to your teeth! So I take my Rock Idol Lipstick in a natural shade and just apply it to the inside of my lips, blending it in with my regular lipstick. It stops any colour coming off onto my teeth. And I've always got
Chanel Écriture de Chanel Liquid Liner, £26
, in my make-up bag. It's got a really good brush so it's easy to get a nice flick."
Top bargain buy?
"I like
Garnier Anti-dark Circles 2-in-1 Tinted Eye Roll-on, £10.49
, which has a little bit of concealer in it. It's also got caffeine and lemon extract, so it's really nice and soothing when you feel tired in the morning. I put quite a lot on and just leave it for a while, then when it starts to dry, I pat it in. It makes me look more awake without having to put loads of make-up on!"
Do you do your own make-up when you appear on TOWIE?
"Yes. I have had make-up artists in the past, but the problem is we never know exactly when we'll be filming. We get call times the day before - sometimes up until 11pm - so I don't know when to book a make-up artist. I really like make-up though, I'm always deciding whether to go for a bright lip or a dark eye."
How do you think your look has changed since you first appeared on TOWIE?
"I've really toned down my make-up since I started the show, and I think a lot of that is to do with insecurity. I used to wear a lot of make-up when I was younger, but I don't wear so much now. It doesn't really stress me out as much as it used to.
"I've also got more mature and have had time to reflect. When I first started, I was involved in a 'glamour world' and I'd wear low-cut dresses, but nowadays I'll dress more covered up and keep my make-up more natural. I don't wear false lashes very often now. I'm not sure if it's because times have changed or it's just me changing. Maybe it's just confidence, maybe that's what changed, and being in a different circle. I think it's very easy to get caught up with a certain 'look' when you're around a different group of friends. And being in this industry, you're always penalised for things so you take it a lot more seriously. But you start to look at yourself and think, 'Well actually that doesn't look that nice,' or, 'Do I really need those massive lashes?'"
Out of all the girls on TOWIE, whose look do you admire the most?
"I'd say Lauren Pope's. She always looks flawless, her hair is amazing and she does it herself. I think she's beautiful and she always dresses really nicely. We've been on a lot of trips together and we'll both be in the mirror, doing our hair and make-up. We've got a lot in common."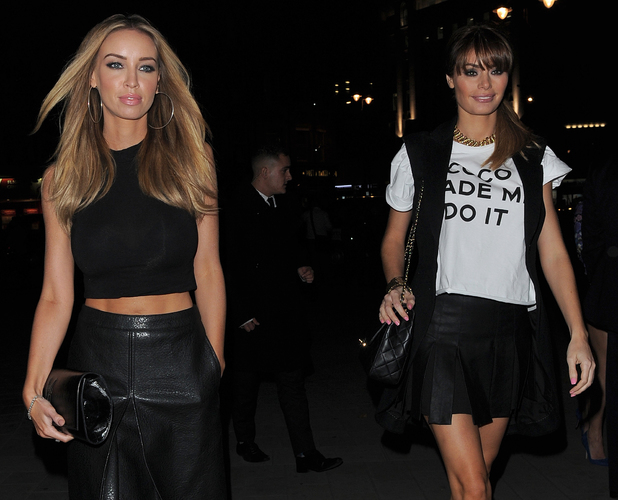 Do you follow a healthy eating/exercise regime?
"I've just started going back to the gym with my personal trainer. I'm meant to be going four times a week, but I've been going three! I found a picture of a body I'm trying to achieve for the summer, and I've given it to my trainer. I do try to be conscious of my health and diet but I'm not that strict. I try to drink a lot of water - even though I hate it - and I use decaffeinated tea bags. I also put a green tea bag in with my usual tea, so it tastes normal but still has the benefits of green tea.
"I am trying to eat healthily. Today I ate two poached eggs with turkey ham and salt and pepper for breakfast, sushi for lunch, and for dinner I'll have fish and vegetables. But the other day I ate four bagels, then had four sausages with mash... so it depends how I feel. I like chocolate and I like cakes. I had a cream cake yesterday, and there's another one in the fridge so I'll probably eat that at some point too!
"If I could have anybody's figure, it would be one of the Victoria's Secret models. Their stomachs are amazing, aren't they? I want their height, body, hair... everything!"
Talking of hair, what's the best way to get heaps of volume?
"When my hair is wet I use
Mark Hill Does My Hair Look Big In This? Power Hold Mousse, £5.99
. I apply it to my roots and my fringe, then when my hair is dry, I use a large curling wand and tong quite big sections. I then individually spray each section with
VO5 Plump It Up Dry Backcomb Spray, £3.79
. I shake my hair out with my hands and then apply the spray again, picking sections of hair up and spritzing quite close to my scalp. That spray gives so much volume, it can go massive! Sometimes it goes too big so I have to clip it down. My sisters keep telling me off because I go on about it so much!"
Check out Chloe's Starship by Montana Tan products at montanatan.co.uk.
What do you think of Chloe's beauty tips? Let us know by commenting below as the best comment across the site each week wins £50!
Got an iPad or iPhone? Reveal Mag is specially designed to fit!