Geordie Shore's Sophie Kasaei has revealed her make-up essentials and the secret behind her lengthy lashes!Reveal
caught up with the blonde star for a chat about everything from Miley Cyrus' hair to Kim Kardashian's highlighter.
She also spoke about her must-have foundation and her biggest beauty blunder!
How do you prepare for a big night out?
"During the day I usually go out with my friends, we chat about what's going to happen that night and compare outfits. I always wash my hair the night before and I already have my eyelash extensions in, so it only takes me about an hour and a half to get ready.
"I don't really like eyeshadow but I do like my face make-up. I highlight down my nose and under my eyes like Kim Kardashian does, then I wear a nice coral blusher and a bit of contour under my cheeks. I do apply lippy, but nothing too bright."
Top make-up must-haves?
"Moisturiser – I use
Nivea Soft, £2.49
, on my face twice a day without fail. A good blusher is essential, I like
MAC Powder Blush in Pinch Me, £18
. And I love applying a touch of shimmer along my legs for a golden glow."
Favourite foundation?
"I rarely wear foundation, but when I do I use
MAC Matchmaster SPF 15 Foundation in 7.0, £27
. I don't wear make-up during the day because I can't be bothered! If I had a job where I was in contact with people every day I would, but I just sit in the house all day."
Does your boyfriend Joel Corry prefer you all glammed up for an evening out or fresh-faced?
"I don't think Joel would know the difference if I had make-up on or not. The other day I asked him what he liked about my body, and everything he said was fake. He said he liked my teeth, lips and hair… they're all fake! That's how thick he is. Why couldn't he say my bum, eyes or legs?
"I tricked him the other day. He picked me up from the tube station and I looked so rough. I had no make-up on, my hair was in a bun and I had the worst clothes on. I asked him if he liked my make-up, and he said: "Yes you look really nice." Then I asked if he liked what I was wearing, and he replied: "Yes is that a new jacket?" I thought he was taking the mick, I looked like a tramp! Boys don't know the difference. They see girls and think they're naturally gorgeous, but if you wake up in the
Geordie Shore
house with no make-up on, the boys will be like: "Ugh!"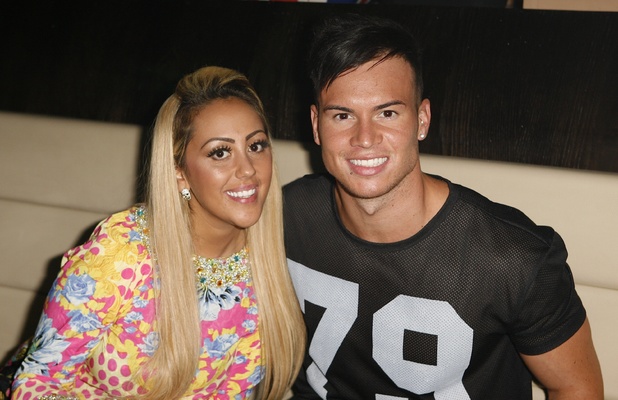 Geordie girls love their lashes - where do you get your extensions done?
"I got them done yesterday at
Perfect Eyelashes
in Kensington. Lucy Watson from
Made In Chelsea
was in there too, so you see even Chelsea girls wear fake lashes, not just Geordies! I got individual lashes because I'm going to Australia for a big tour, and they last a good month. Then on a night out I apply fake lashes over the top."
How about your brows?
"I get my eyebrows tattooed by
Tracie Giles
. I've got really dark eyebrow hairs anyway so it looks really natural. I still fill them in with
Benefit Brow Zings, £23.50
, it's a wax and powder duo which I apply with an angled brush. Everyone loves a thick brow, don't they? We used to call it the Scouse brow but now it's the Cara Delevingne brow, although I think she needs a bit of a tweeze!"
Would you ever dye your blonde hair?
"I think sometime next year I'll get rid of my blonde hair because it's so boring now, but I couldn't ever go back to dark. When I was first on
Geordie Shore
I looked like a fat oompa loompa. I feel if I went dark, I'd go back to that old girl. It brings back awful memories."
Any tips for taking care of blonde hair?
"To be honest I've pretty much got no real hair, it's in such poor condition. I've even had a fake fringe made for me by Easilocks because my hair is so snapped. Without my extensions I've got hair as short as Miley Cyrus!"
Would you ever go out without your hair extensions?
"Are you joking! A Geordie girl going out like that? Miley is American, and Americans get away with anything. Just look at Britney Spears, she shaved her hair off and she's still a ledge."
Are you a Miley fan?
"Not really. I was watching a film starring her the other day and she was good, but I don't know what's happened to her now."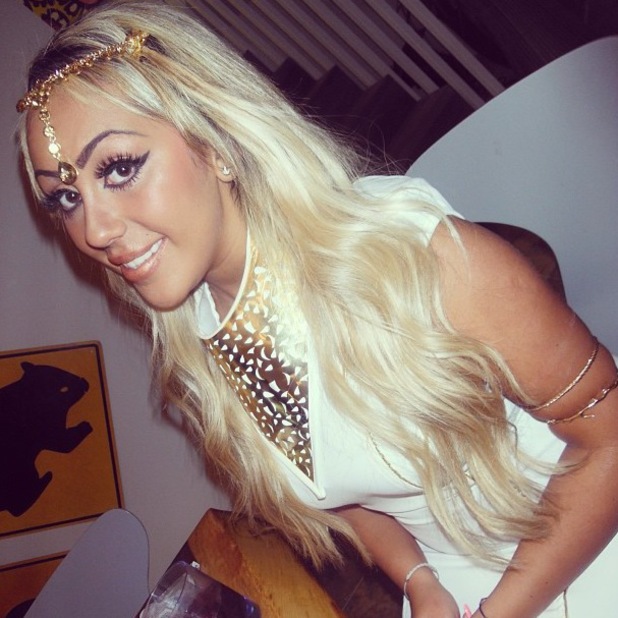 Biggest beauty disaster?
"In
Geordie Shore
series one I used to get a spray tan at a uniform shop for £5. I'd put my money in the machine and stand there, it was an automated thing. I'd always come out looking so orange! I also had black hair, wore two pairs of fake eyelashes and bright red blusher. It was awful."
Where do you like to shop?
"I like online shopping because if I go to the high street now it's a bit of a hassle. People want photos and I never have any make-up on, so I look awful in their photos. I'd rather just sit at home and shop! I like Missguided.co.uk, Boohoo, ASOS, Celeb Boutique and Topshop."
Are there certain outfits you just know will get tons of attention?
"I actually get more attention from girls than boys. If I put a photo on Twitter or Instagram everyone asks where I bought my outfit. It's usually just a basic £20 dress. Sometimes I message a clothing company and say: "If I wear one of your dresses it will get loads of publicity, so can you give it to me for free?" It's so cheeky, and sometimes they say no which is embarrassing!"
If you could look like any celeb, who would it be?
"There's a girl called Alena Shishkova, I'm obsessed with her Instagram! Jessica Burciaga is gorgeous too, she's a Playboy model."
How did you feel about Marnie Simpson entering the Geordie Shore house?
"I didn't actually know she was coming in, no one knew. It's hard because she's my cousin and I like to keep my family and the show separate. It felt odd getting the two involved with each other."
Now you've left Geordie Shore, what are your plans for the future?
"I get loads of messages asking where is good to go out in Newcastle, so I'm starting a party planning business called Geordie Tours. I'll sort out your whole party - your hotel, clubs, VIP lounges, restaurants, and I'll also organise hen and stag dos. Eventually I want to do it in places like Amsterdam and Prague too."
Reveal spoke to Sophie while she was visiting Perfect Eyelashes, www.perfecteyelashes.co.uk.
What do you think of Sophie's beauty tips? Let us know by commenting below as the best comment across the site each week wins £50!