Made In Chelsea's Ashley James has revealed her daily beauty routine and make-up essentials!
The model has been seriously popular with the Chelsea boys, and with her tousled locks, flawless skin and bright blue peepers it's easy to see why.
Reveal
nabbed a chat with Ashley at Virgin Media's V Festival last weekend, quizzing her on all things beauty!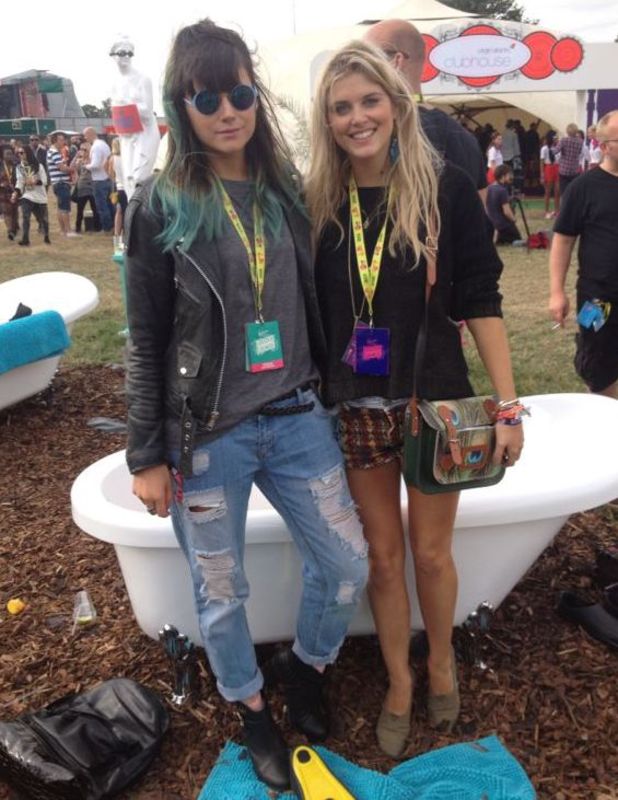 What are your make-up must-haves?
"I like to keep my make-up minimal, even though I'm wearing quite a lot today. I've actually just got some new make-up from Smooch which I'm loving. I'm wearing their
Lipstick in Skinny Dipping, £7.50
, today, it's a really nice nude shade. My favourite blusher is by Smooch too, and I also like MAC blushers. I like my blush to be either really pink or really peachy.
"I also use
Lipsy Bronzer, £10
. I love Lipsy as a brand and I've worn a few of their clothes, so they sent me some make-up. Sometimes you buy a bronzer and don't realise it's really glittery, then when you go out in daylight you're shining! But the Lipsy one is great, I love it.
"For mascara I use
Collection Multiplier Mascara, £4.99
, which applies really evenly. I used to use
Benefit They're Real Mascara, £19.50
, but because it's quite oily I found it hard to wash off. The Collection mascara is easy to remove and it lasts well."
What is your favourite foundation?
"I bought
Giorgio Armani Luminous Silk Foundation, £34.50
, just a few weeks ago, and now it's my absolute favourite! It's really nice and light. I was recommended it by Ianthe Cochrane-Stack who used to be in
Made In Chelsea
. I like make-up to look really natural, so I prefer to build up my foundation in layers if I need more coverage.
"I used to use my fingers to apply foundation but I was told off, so now I apply it with a brush like an adult! I like using brushes by
The Vintage Cosmetic Company
. I've actually started doing some work with them, I think they're a really pretty brand. I do find when you apply foundation with a brush you get a heavier coverage, so I just apply little dabs in sections and then even it out."
Top tip for clear skin?
"My biggest beauty tip is so simple, just wash your face! So many of my friends use face wipes, but they don't clean your skin. My current favourite cleanser is the
Elemis Pro-Collagen Cleansing Balm, £39.50
. I use it as a normal face wash, but sometimes I'll put it on and leave it because it acts as a mask too. It's literally transformed my skin. It sounds cheesy but it's just so good!
"I'm using loads of Elemis products right now, like their night cream and under eye serum. I'm a massive fan! Oh and the best thing in the world is the
Elemis Exotic Lime and Ginger Body Scrub, £35.80
. I used to get dry skin and tiny little bumps on my legs, but since using that body scrub my skin is so soft now. It's amazing."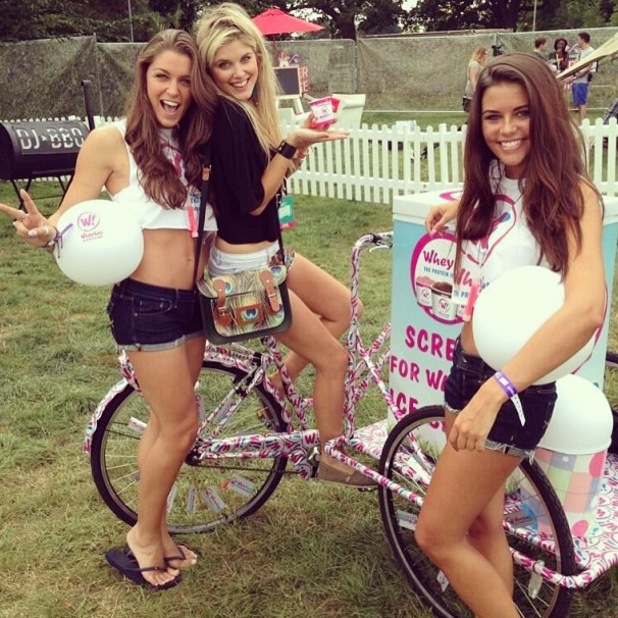 Do you fake tan?
"Yes I do, I wish I was this tanned naturally! I never sunbathe because I'm obsessed with my skin and I don't want it to age quickly. I use
Fake Bake 60 Minutes Self Tan Liquid, £24.95
, it's brilliant. You're meant to wash it off but I've left it on today.
"I'm quite a last minute person, I only decided I was going to V Festival this morning, so I just applied the tan and by the time I had dried my hair and put my make-up on, it had already developed. You can see where you're putting it so you don't have to worry about streaking, it dries really quickly and it doesn't smell. It's definitely my favourite, although I do love Vita Liberata too."
Can you talk us through your hair care routine?
"My hair is my pride and joy. I got it cut once for a modelling job, and they shaved it off at the back and dyed it ginger! Plus I'd just broken up with my boyfriend of six years, it was awful. Ever since I've been obsessed with my hair. My mum is a hairdresser, so I feel like I have to have nice hair for her!
"I always brush it when wet with a
Tangle Teezer, £10.99
. It's a lifesaver - I have a lot of fine hair and it gets so knotty. I use
L'Oréal Professional Mythic Oil Shampoo, £13
, and
L'Oréal Professional Mythic Oil Conditioner, £14.35
, which are great. Use them once and they will change your hair! Then I apply the
L'Oréal Professional Mythic Oil, £16.40
, and a leave-in conditioner, anything that will add moisture. And about once a month I leave conditioner on my hair overnight and put cling film around it, which helps to strengthen it."
You have perfect beachy, tousled waves! Do you use any texturising products?
"No, it just looks this way because I don't brush it! I only brush it in the shower. Underneath my hair gets so messy that it gives the top half more volume. I don't like to use too many products on my hair, so once it's dry I just leave it. Sometimes if it's flat I'll use
Batiste Dry Shampoo, £2.99
."
Finally, where is your outfit from?
"My shorts are by Missguided.co.uk, I love them but they're so short! I think Missguided.co.uk is such a good store, it's so cheap but their clothes are really nice. I'm wearing espadrilles by TOMS because I wasn't sure about the weather. Pretty much all my jewellery is from Claire's Accessories and my bag is by WUWUW.
"I'm also wearing a bracelet by my own brand Whistle & Bango, which is launching in a couple of weeks. My jumper is by Missguided.co.uk, I wore it when I shouted at Ollie Locke in an episode of
Made In Chelsea
!"
When we spotted Ashley she was enjoying some chill-out time with pal and MTV presenter Lilah Parsons, who also talked us through her festival look.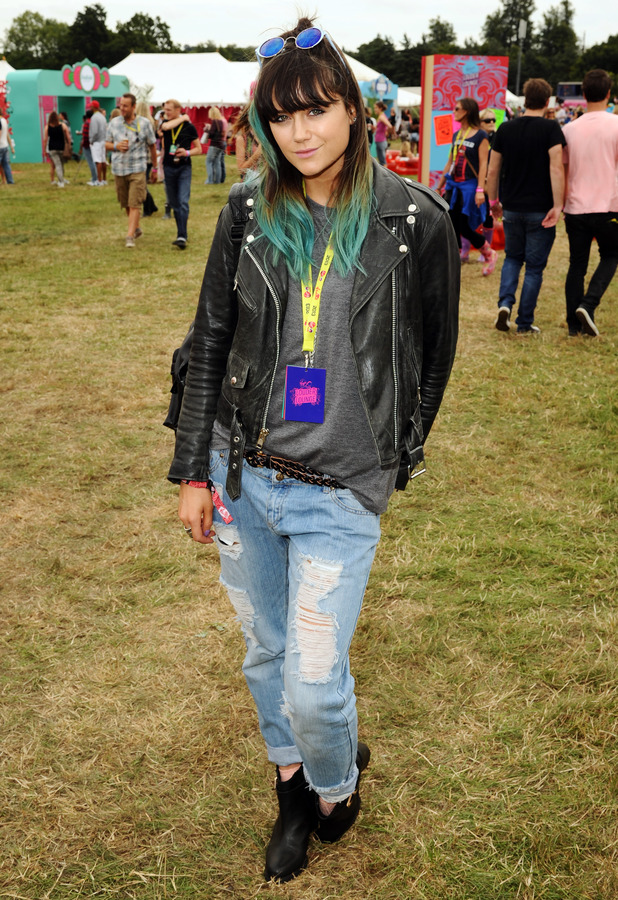 "My top and jeans are both by Missguided.co.uk, my leather biker is vintage and my boots are by Blonde on Blonde," revealed Lilah.
"For make-up I'm wearing a bubblegum pink lipstick by Collection, a flick of black eyeliner by Bourjois and the
L'Occitane Sublime Beauty Cream, £25
.
"I'm obsessed with my nails, right now I'm wearing a lilac Shellac. It's so stress-free and you always know your nails look good. I feel horrible when I have dirty nails! I moved to New York a couple of years ago for modelling, and out there it's like brushing your hair or changing your underwear, you just
have
to have manicured hands."
And we were totally impressed by Lilah's mermaid dip-dye locks, too!
"Every now and again I just feel a bit rebellious and have some fun with my hair," laughed Lilah. "I bleached the ends then dyed them purple, and it was meant to come out after a few washes but for some reason it turned blue! It was totally unintentional, but I'm embracing it!"
Check out all the pictures from Virgin Media's V Festival here:
Copyright: Rex Features AKEM
What do you think of Ashley's make-up must-haves? Let us know by commenting below as the best comment across the site each week wins £50!