Hollyoaks star Abi Phillips has let us in on a little secret - she gets her fabulous faux glow straight from the supermarket!
We spoke to Abi at the
Tatiana Hair Extensions Salon in Manchester
, and she shared the deets on her beauty regime along with the products she loves.
Notepads at the ready, ladies!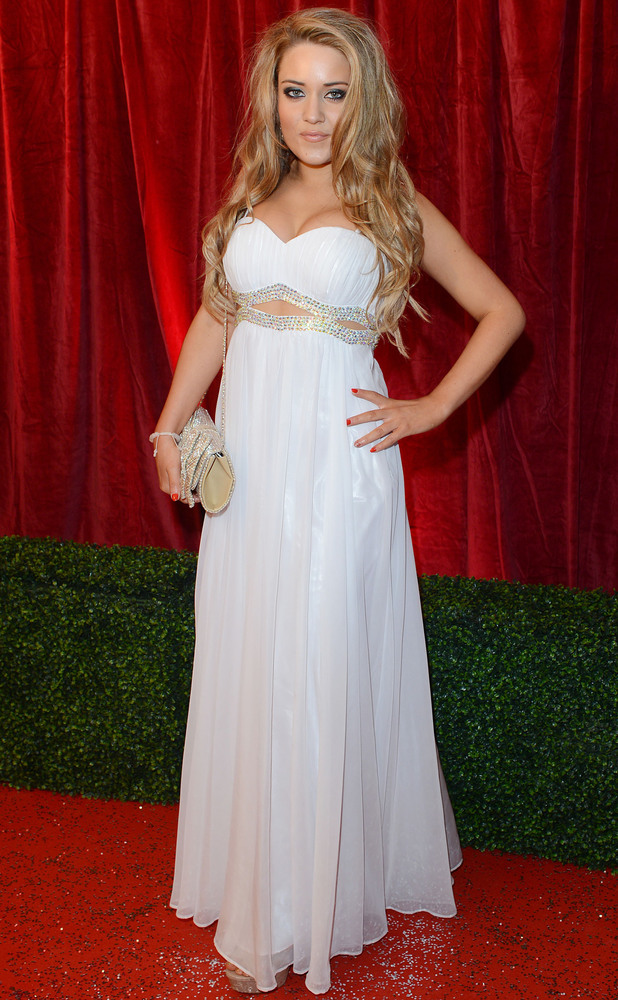 What are your favourite make-up products?
"I'm a big fan of
MAC Studio Moisture Tint SPF15, £21
, and I love a bit of bronzer, my favourite is the
Chanel Soleil Tan de Chanel, £31
. It's a cream bronzer which you can use all over your body or just on your cheeks. For my eyebrows I use
MAC Eye Brows in Lingering, £12.50
, it seems to go with all hair colours and skin tones.
"I mostly use expensive products, but that's because I have sensitive skin and eyes. If I use too many products I get an outbreak of spots, so when I find something that works for me, I stick to it. But I do like Barry M eyeshadows, lip glosses, and nail polishes. Their new
Barry M Gelly Hi-Shine Nail Paints, £3.99
, are lovely."
Fave lip colour for summer?
"I like wearing peach-toned lip gloss, nothing too obvious, just shiny and pretty. I always think you should play up either your eyes or lips, not both, and for me it's usually my eyes."
Have you learnt any good make-up tips since appearing on Hollyoaks?
"Having perfect make-up is all about blending. You could do a really nice smoky eye, but if you don't blend it out you'll look like you're wearing far too much make-up. And when applying eyeshadow, put a tissue under your eye so your eyeshadow drops onto the tissue, rather than all over your face. Otherwise it will ruin your foundation and you'll look like you've been coal mining!"
Summer holidays are on the horizon - any tips to keep your skin looking good whilst travelling?
"My advice is always take your make-up off, I like to use
Johnson's Daily Essentials Refreshing Facial Cleansing Wipes, £3.29
. I wear a lot of make-up for filming, so I always remove it so my skin doesn't get over-stressed."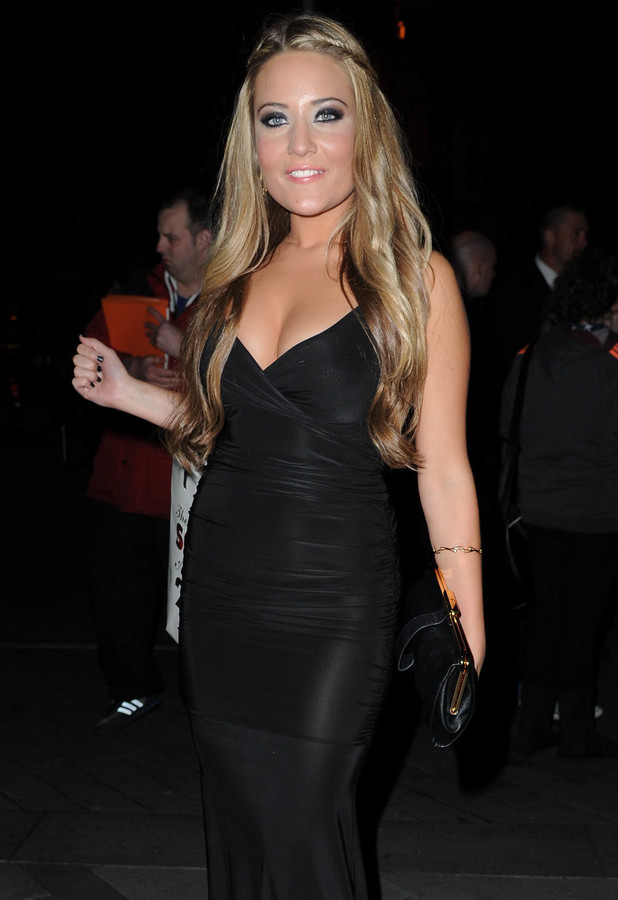 Fave fake tan?
"Recently I've been loving the
ASDA Self Tan Instant Lotion Medium, £3.50
. It's so good! It's tinted so you have to use gloves otherwise it will go everywhere. It does take a while to rub in but the colour is good, it doesn't streak or rub off in the morning, and it lasts about 4-5 days. Plus it's so cheap! I really like the
Rimmel Sunshimmer Instant Wash-off Matte Tan, £6.99
, too, which I apply with a mitt.
"If I'm going on holiday I'll scrub my tan off 2-3 weeks before, because it can go patchy in the sun. I squeeze a bit of shaving foam on my exfoliating gloves; it makes your skin slippery so your tan comes off really easily. It's such a good tip, I used to make myself red raw trying to get tan off."
Let's talk hair - how do you style your locks each morning?
"On a day-to-day basis I try not to do much to it. I like to keep my hair long, so if I start burning it with straighteners, it will just get damaged. For an evening out, I'll usually create loose curls with my
BaByliss Soft Waves Curling Tong, £29.99
, and backcomb the roots. Before the British Soap Awards 2013 I went to the Tatiana Hair Extensions Salon and they put clip-in extensions to make my hair thicker. It looked amazing. I love big hair!"
Which products do you use on your hair?
"I always apply the
Uniq ONE All in One Hair Treatment, £13.99
, after washing my hair to protect against heat, help mend split ends, and keep it looking shiny. I also like Aussie shampoo and conditioners, and the
L'Oreal Elvive Full Restore 5 Hair Mask, £5.09
, is really good too. Oh and I love
Batiste Dry Shampoo, £2.99
. I use it when I'm in a rush and haven't got time to tend to my hair."
Do you feel pressure to stay in shape?
"I wouldn't say I feel pressured by other people, but I do feel better in myself if I exercise. There will always be people who comment on your appearance, but if you're happy in yourself it doesn't matter what people think. I eat healthily, but I'll have one day when I pig out, which I call my cheat day. So I'll be good all week, exercise five or six times, then have one day when I eat absolute rubbish!"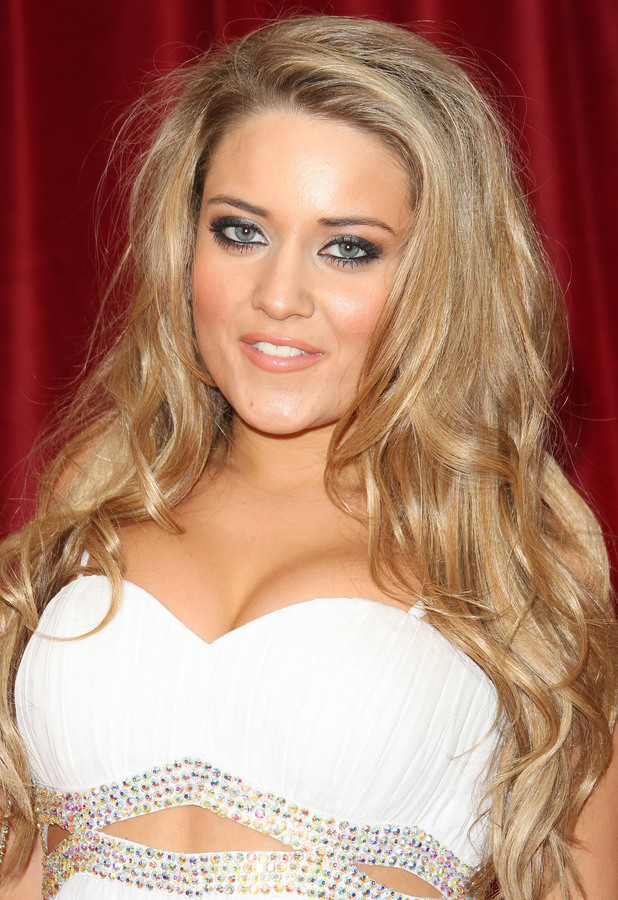 What are your tips for maintaining your weight?
"My advice is if you want a chocolate bar, have one square and save the rest. It's about having what you want but in moderation. Exercise three times a week if you can. I run and go to the gym a lot, usually for about two hours. I'm not saying everyone has to do it, but that's what suits me. Find an exercise that works for you, one that you enjoy, and stick with it."
What would you say to girls who don't feel confident about their appearance?
"It's really horrible that young girls feel pressure to look a certain way. I used to absolutely hate my body, I was overweight while I was at school, but then I chose to do something about it. I started running and I haven't stopped since, because that's how my weight came off.
"I'd always encourage losing weight in a healthy way, not on a fad diet. I once tried a fad diet for two months, and it worked at first but it didn't match my lifestyle and I didn't have the patience to keep it up. I stopped doing it and put all my weight back on, plus 10% extra. Don't bother with them, and don't starve or stress yourself. Try going dancing - you'll be exercising but you won't feel you're being tortured whilst doing it!"
Fashion-wise, where do you like to shop?
"Topshop and Urban Outfitters."
Fave trend for summer?
"I love pastel and neon colours. I like wearing them on my nails too – right now I'm wearing
Barry M Gelly Hi-Shine Nail Paint in Green Berry, £3.99
, it's a really vibrant colour."
What's your favourite item in your wardrobe?
"I'm loving denim high-waisted shorts. I've got a pale blue pair by Levi's which were only £10, and I wear them with crop tops and boots. In the evening, I like wearing little black dresses. You can't beat them, they're so simple and everyone looks good in them."
What do you think of Abi's tanning tips? Let us know by commenting below as the best comment across the site each week wins £50!