REVEAL + COLLECTION
This content has been created in collaboration with COLLECTION
Who wants to splash out on budget-busting fancy dress kits you'll never wear again? NOT US.
From Day of The Dead to cats and a smouldering Spider-woman, we've rounded up the Halloween looks that require nothing but fabulous make-up (and the odd bit of face paint).
Original image: Olivier Vanderheyden
Who said there's no place for pink during spooky season? If you can't part with your favourite prettifiers, consider this look 'The One.'
After applying your usual base, blush and lippie, build up plenty of smoulder using a jet black chunky eye pencil like
Crown Brush Chubby Eye Pencil in Black Out, £3.99
. Work it over your lids and lashlines (when you think you're done, add more!) then blend, blend, blend with a soft fluffy brush.
Follow with a touch of glimmer at the inner corners of your eyes.
Collection Glam Crystals Dazzling Gel Eyeliner in Glitz, £2.99,
is insanely sparkly.
Now for the cobwebs!
Collection Fast Stroke Eyeliner in Black, £2.99,
is perfect for conjuring up your design. The nib's super-precise and the inky black hue will stay put from dusk to dark and beyond.
Once you're happy with your lines, press on a couple of gems.
Claire's Clear Body Gems, £3.50 for 50,
are ideal. To finish, get your flutter on!
Eylure Enchanted False Lashes in The Raven, £5.95,
are some of the fullest falsies we've spied.
Original image: Mayra Touch Of Glam
A pair of novelty cat ears isn't going to impress anyone - for a feline face with mega 'wow,' you need to get smart with the sculpting.
Start with a blank canvas using a full-coverage foundation. Then use your secret weapon - a matte brown powder - to add dimension in certain areas. Try
Benefit Hoola Matte Bronzer, £23.50.
Extend it through your eye socket line then down the length of your nose on either side. Add a little to the area between your nose and mouth to give a slight snout-like shape then blend away the harsh lines. Miaow!
Killer brows and a smoky winged eye will give the illusion of elongated, almond peepers.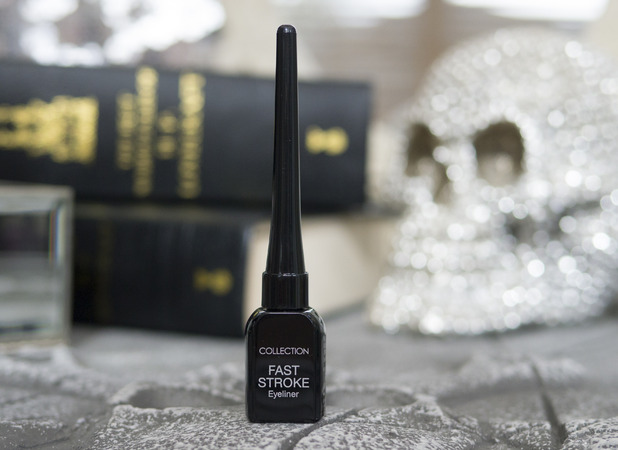 For a button nose, use your trusty
Collection Fast Stroke Eyeliner in Black, £2.99,
then wipe off the excess and swish on some whiskers. And to cheat that blood-red lip? You'll want to turn to two contrasting lip colours - use a darker shade at the edges with a brighter red towards the centre.
Blend the two together with your finger for a pout-plumping, ombre effect.
Illamasqua Lip Set In Deep Berry, £25,
houses both a lacquer and a liner.
Original image: Jade Deacon
You'll want to whip out the face paint for this one!
Smiffys FX Face Painting Palette, £4,
is a bargain. Use a damp sponge to apply the red to half your face, after evening out your skin with foundation. Follow with the kit's black cream to create a dramatic cobweb effect.
What's Spider-woman without some uber-glitz?
Collection Glam Crystals Dazzling Gel Eyeliner in Funk, £2.99,
looks incredible on both eyes and lips. Just pop some on the back of your hand then use a small brush to dab it on for a diffused effect - add some to the centre of your forehead while you're at it.
And for that fierce liner? Use
Collection Fast Stroke Eyeliner in Black, £2.99,
(talk about a wonder product!), taking it right into the inner corners for piercing peepers.
Original image: Kelsey Thomas
How incredible is this look?! A face paint set will get the decorative details sorted. But it's the eyes and cheek hollows where you can really get creative with your make-up bag. Rim your waterline with a cream eye pencil like
Makeup Geek Full Spectrum Eye Liner Pencil in Nude, £8,
to make the whites of your eyes appear bigger.
Follow with a matte grey powder along your cheekbones.
Bobbi Brown Eye Shadow in Slate, £17.50,
does the job. Hellooo faux skeleton!
Finish with a sprinkling of red gems and some souped-up floral barnet bling. We're cooing over
Accessorize Halloween Flower Hair Alice Band, £12.
Original image: Leyla Rose
Oooh YES vampy pout! Nothing gives a matte berry lip quite like
Collection Velvet Kiss Moisturising Lip Cream in Rosie, £2.99.
Use the precision applicator to create defined edges - the finish is shine-free but super-comfortable and it'll last through every cocktail.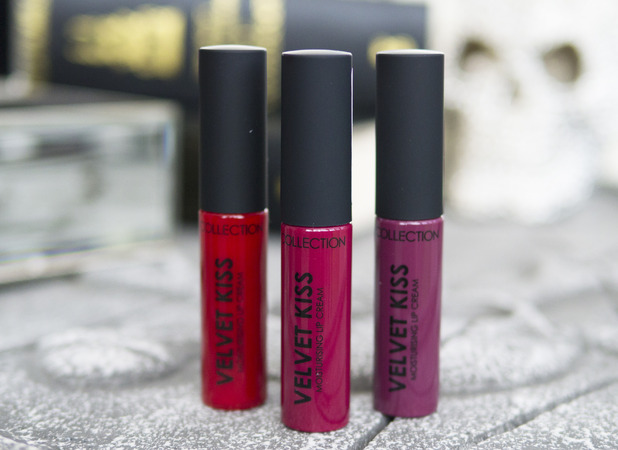 A red lip pencil's all you need to cheat those blood-stained cheeks. Use a light touch and feathered strokes. Top it off with red contact lenses and a deep purple eye shadow like
Topshop Eyeshadow Mono in Make-Believe, £7.
*The individuals featured do not endorse any of the products outlined in this article.