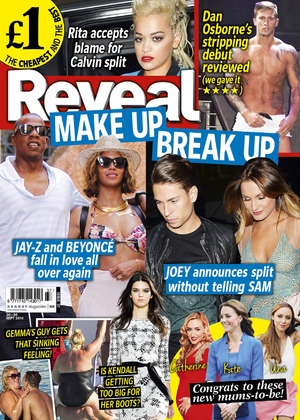 Reveal.co.uk talks with its readers, not at them, encouraging young women to share their opinions on anything and everything showbiz, fashion, beauty or real life that is hot right now.
We don't just publish the latest celebrity gossip, we use it to engage our readers in lively debate about topics relevant to them.
Jane Ennis,
EditorPaula Jones,
Deputy EditorWendy Rigg,
Associate EditorOwen Connolly,
Art DirectorWeb Team
Lara Martin,Web Editor
I joined Reveal when the website launched in July 2012 after previously working as a content editor for MSN Now and News Editor on DigitalSpy.com.
Natasha Rigler,
Deputy Web Editor
I am the Deputy Web Editor at Reveal and have previously worked on the showbiz desk at the magazine. I love visiting the beach in my hometown of Poole in Dorset, eating Dominos pizza and cuddling my two guinea pigs Peppa and Hazel!
Olivia Heath,
Senior Web WriterBrigitte Swimer
Junior Web Writer

Katie Storey
Web InternGeorgia Goodall
(@GeorgiaReveal)
Web writer
Georgia joined Reveal way back when it was a secret project in 2004. She's responsible for anything to do with hair, make-up, skincare and her favourite subject (other than her dog, Dave), perfume. When she's not writing about fluffy stuff and scouring celeb pictures for new hairdos she can be found walking said dog, supping red wine or listening to poor, sorry eclectic, music.
Helen Fear,Web Writer
Celebrity
Rosalind Sack,
(@Ros_Reveal)
Celebrity Editor
I joined the showbiz team at Reveal in 2007, having previously written for a wide range of national newspapers and magazines. I'm a culture junkie and when I'm not rubbing shoulders with celebs, you'll often find me skulking around dark gig venues checking out the latest band turning heads in the music industry. I've been a member of the BRIT Awards Voting Academy since 2011.
Nikhita Mahajan,
(@Nikhita_Reveal)
Deputy Celebrity Editor
Nikhita joined Reveal in 2010 after leaving the world of tabloid newspapers. Her career highlights: Getting cosy on the couch with Simon Cowell, clubbing with the royals and lunching with her idol Jackie Collins. Lowlights? Setting off the alarm on Downing Street and a not-quite kiss and tell on Russell Brand (cringe!). In her free time she likes to eat, or nag her friends and family about what to eat next.
Emma Hunt,Acting Senior Celebrity WriterRebecca Greenow,Junior Celebrity WriterCarena Crawford,
TV WriterFeatures
Su Karney,
Features EditorSarah Whiteley,
Senior Features WriterRussell Grant,
AstrologerDr Phil Hammond,
Health Columnist
Art
Dan Smith,Deputy Art Director
Melissa Liverpool,
Senior DesignerLaura Skelton,
DesignerLauren Fell,
Art InternSubs
Andrew Saxton,
Chief Sub Editor
Paul Wray,
Deputy Chief Sub Editor
Liz Johnson,
Senior Sub Editor
Jade Fitzgerald,Sub Editor
I'm a sub-editor and started working at Reveal in 2010. When I'm not reading about what Jordan is doing now, I can be found watching any kind of sport, looking at pictures of David Beckham with his top off or watching Friends (for the millionth time).
Kayleigh Hooton,
Junior Sub Editor
Fashion, Beauty and Lifestyle
Aja Wallis,Fashion and Lifestyle StylistLucy Moon,Fashion AssistantAmber Ascroft,
@amber_ascroft
Junior Beauty Writer
Amber is a Bournemouth University Multimedia Journalism graduate and has contributed on the beauty desk at several women's magazines. From Kate Middleton's blazers to TOWIE tans, she now covers all things fashion and beauty at Reveal.
Pictures
Dara Levan-Harris,Picture EditorClaire Sheldon,Deputy Picture EditorAngela Brooks,Picture ResearcherShila Sultana,Acting Picture ResearcherCaroline Harbourne,Picture Assistant